Edna Myrle Harmon
Bentonville, AR, 1919 - 2019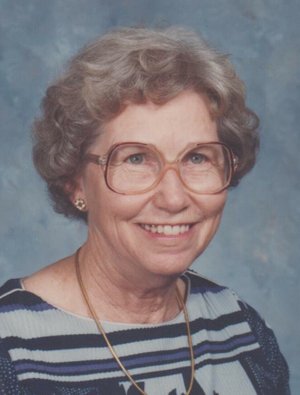 Edna Myrle Verser Harmon of Bentonville passed away in her home on January 4, 2019. Edna was born at home in the Brownsville Community near Heber Springs on October 13, 1919. She was the daughter of William Ernest and Blanche Files Verser. She graduated from Heber Springs High School in 1938. On May 19, 1945, Edna married Dennie Avril Harmon of Heber Springs.
Edna had a personal relationship with Jesus Christ and was a member of Grace Baptist Church in Rogers. She taught school in a one-room schoolhouse in the community of Shiloh near Heber Springs, worked with the war effort as a Rosie the Riveter during WWII in Oklahoma City, Okla., and worked alongside Dennie on their Bentonville farm that they purchased in 1960. She retired from Bentonville Public School food service. She was an active member of the Morning Star Home Extension Club, and enjoyed cooking and gardening. Edna's current home, located in Bentonville, has one of the largest Black Walnut trees in the state. She was known for picking kernels out of the walnuts to make cakes and pies.
She was preceded in death by her parents; her husband; brothers, Wayne and Wendal Verser; and sister, Della Mae Verser. She will be dearly missed by those who knew and loved her, including her three sons and daughters-in-law: Dennis and Barbara Harmon of Bentonville, James and Sandy Harmon of Jonesboro, Rodney and Janie Harmon of Thompson Falls, Mont.; grandchildren, Jennifer (Jeremy) Sharpshair, Dustin (Dawn) Harmon, Mackalynn (Chris) Davidson, Kyle (Mayra) Harmon, Heath (Aubry) Harmon, Jacily (Tyler) Baugh, Lindsey (Adam) Franklin, Trent (Sarah) Harmon; 16 great-grandchildren; sisters, Freeda Cothren of Heber Springs, Norma Lynn Bailey of Mountain Home; brother, Bryce (Mary Lou) Verser of Conway; and sister-in-law Willene Verser of Heber Springs.
A graveside service will be conducted at 2 p.m. on Monday, January 7 at Benton County Memorial Park in Rogers. In lieu of flowers, the family requests donations be made in Edna's name to Grace Baptist Church at www.gbcrogers.com/giving.html or to the Cleburne County Historical Society at 102 East Main St, Heber Springs, Ark. 72543.
Published January 5, 2019
OBITUARY SUBMITTED BY:
Callison-Lough Funeral Home
605 W. Central, Bentonville, AR
E-mail: callisonlough@sbcglobal.net
Phone: 479-636-2277
http://www.callisonloughfuneralhome.com/