Verna Lois South
of North Little Rock, AR, 1924 - 2019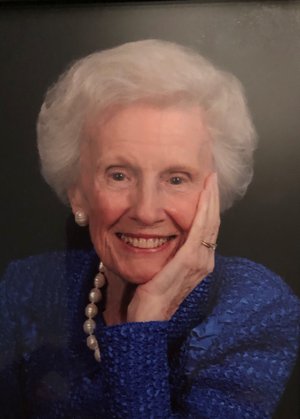 Verna Lois Roberts South, age 95, of North Little Rock, went to be with the Lord on July 14, 2019. She was born July 15, 1924, in Clayton, New Mexico, one of four children of Surry and Neoma Roberts. She is preceded in death by Dr. Rheubin L. South, whom she married on November 29, 1944, and is survived by their three children, Gregory South of Decatur, Alabama, Sharon Coppenger of Nashville, Tennessee, and Diedra Gaskalla of Maumelle, Arkansas. She is also survived by seven grandchildren (Jonathan and Justin South; Caleb and Jedidiah Coppenger and Chesed Broggi; and Bryson Bittle and Jordan Hammond) as well as 18 great-grandchildren and two great-great-grandchildren.
After wartime service with the Army Air Corps in Europe, Rheubin returned to New Mexico, where he and Verna were wed. Soon afterwards, he sensed God's leading into the gospel ministry, and they moved to Ft. Worth for seminary training at Southwestern Baptist Theological Seminary. In 1950, they moved to North Little Rock, where he began a 25-year pastorate at Park Hill Baptist Church, and from there, in 1975, to Jefferson City, Missouri, where he served as Executive Director of the Missouri Baptist Convention until his death in 1986.
Through all these years of ministry, Verna was the best of partners, both as a homemaker and as a servant of the church. In all this, she was diligent and effectual, with an engaging and infectious spirit. She loved the Lord, her husband and family, the fellowship of believers, and, indeed, people in general, and she delighted in their company.
At Park Hill, she filled a variety of roles, from choir member to wedding coordinator to Sunday School greeter to hostess for neighborhood outreach teams. In Missouri, she was the consummate "First Lady" of their Southern Baptist work, whether traveling the state with Rheubin or welcoming board members and other saints into their home.
At Park Hill, she would traditionally sing "Sweet Little Jesus Boy" at the Christmas Eve service, and that same Jesus became her Savior and Lord, the object of her eternal devotion and gratitude. Her sentiments were well expressed in a passage she particularly cherished, Proverbs 3:5-6 — "Trust in the Lord with all thine heart; and lean not unto thine own understanding. In all thy ways acknowledge him, and he shall direct thy paths."
Eager that all hear the gospel which she embraced, she insisted that it be shared at her funeral, and her wish will be honored. Visitation will be held at 1 p.m., Wednesday, July 17, at Park Hill Baptist Church in North Little Rock. The service will follow there at 2:30 p.m.
In lieu of flowers, those wishing to make contributions in her memory are encouraged to donate to the International Mission Board of the Southern Baptist Convention (imb.org/give), the Alzheimer's Foundation of America (alzfdn.org/support-us/donate/), or the Leukemia and Lymphoma Society (donate.lls.org). Online guest register at www.smithsherwoodfuneralhome.com.
Published July 16, 2019
OBITUARY SUBMITTED BY:
Smith Sherwood Funeral Home
7700 Hwy 107, Sherwood, AR
Find it at: Sherwood
E-mail: sherwood@smithfamilycares.com
Phone: 501-834-1191
http://www.husonfuneralhome.com/