Rachel Marie Taylor
Batesville, AR, 1921 - 2019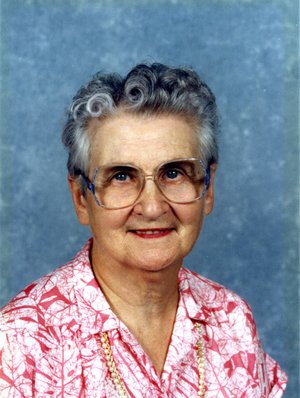 Rachel Marie Sauvageau Taylor, 98, of Batesville died Friday, May 31, 2019. She was born Saturday, May 7, 1921 in Hull, Quebec, Canada to Joseph Donat and Jeanette (Ducharme) Sauvageau. She was preceded in death by her husband of 67 years, Dr. Charles Albert Taylor. They resided together in Batesville, Ark., from 1948 until his death in 2014.
Rachel was a retired Registered Nurse, having served as a 2nd Lieutenant in the United States Army Nurse Corps during WW2. She graduated from St. Joseph's Catholic Hospital Nursing School of Detroit, Mich., in 1943 and was employed as a maternity nurse at Mount Carmel Hospital in that city where she met her "Charles A" when he served a medical internship there in 1944. She worked alongside him in his medical office for many years in Mammoth Springs and Batesville. She was appointed the first official school nurse of the Batesville Public Schools in 1968, a position she held until her retirement in 1983.
She was a member of St. Mary's Catholic Church and its predecessor, Our Lady of the Blessed Sacrament Church, since 1948, where she sang in the choir and was a children's Sunday School teacher and lay sacristan for many years. She was a volunteer with the St. Mary's Auxiliary, Help and Hope, and Family Violence Prevention.
During her life she enjoyed ice skating, roller skating, dancing and horseback riding, especially trail rides along the Poke Bayou. She was the captain of the ski boat Beau Geste, and felt it her obligation to teach every young person in Batesville to water ski. She loved football, especially the Batesville Pioneers, the UofA Razorbacks, the Detroit Lions, and any team whose quarterback was a Manning.
She is survived by her son, David R. Taylor M.D. and his wife, Bonnie J. Atterbury Taylor M.D. of Fayetteville, Arkansas; a grandson, D. Matthew Taylor of Fayetteville; a granddaughter, Amy C. Taylor M.D. of Little Rock; and several nieces and nephews.
Pallbearers are Red Schultz, Tom Zurkowski, Lester Myers, Chris Black, Tony Gunderman, and Bob Carius. Her family wishes to thank the many people whose care and love made her final years love-filled and comfortable, but especially Mary Blanchet, her communicant and ever faithful connection to her church family, as well as the wonderful staff and residents at Eagle Mountain Assisted Living, her home since 2012.
Funeral services will be held at St. Mary's Catholic Church on Wednesday, June 5, at 11 a.m. with Father Stephen Gadberry officiating. Burial will follow at Oaklawn Cemetery. Visitation will be from 5 p.m. to 7:30 p.m. on Tuesday, June 4 at Roller-Crouch Funeral Home. In lieu of flowers, donations may be made to Family Violence Prevention, 360 W. Main Street, Batesville, Ark. 72501 and the Arkansas Sheriff's Youth Ranches Inc., PO Box 3964, Batesville, Ark. 72503-9989. www.rollerfuneralhomes.com/batesville.
Published June 4, 2019
OBITUARY SUBMITTED BY:
Roller-Crouch Funeral Home
510 College Park, P.O. Box 2576, Batesville, AR
Phone: 870-793-4161
http://www.rollerfuneralhomes.com/