Charles Harvey Stinnett
Siloam Springs, AR, 1934 - 2019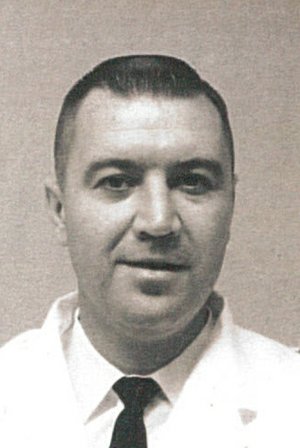 Charles Harvey Stinnett, M.D., died June 14, 2019 at Circle of Life Hospice in Springdale, Ark. A resident of Siloam Springs, he was the son of Richard and Irene Stinnett and had one older brother, Carl (now deceased). Charles was born February 26, 1934 and grew up in Horatio, Ark. He played linebacker for the Horatio Lions. He first attended the University of Arkansas in 1952 for agriculture, but with encouragement from Dr. Dickinson, his hometown doctor, and Fred Sharp, the pharmacist he worked for in high school, he switched to pre-med. He was admitted to the University of Arkansas College of Medicine in February 1955 during his junior year.
Charles met Barbara at a dinner for incoming medical school freshman at Mary Maestri's. The two married in 1956 at Barbara's parents' farmhouse in Bloomer, Ark. (near Charleston). After graduating from medical school in 1958, their first son, Scott, was born in 1959. Charles completed residency in 1961 and joined Drs. Huskins and Puckett in Siloam Springs, Ark. Charles and Barbara's second son, Steve, was born in 1961.
Charles practiced medicine in Siloam Springs for 44 years. He could not have done it without Barbara's unwavering support. It is estimated that he delivered over 1,500 babies, and he considered each and every one of his patients a part of his family. He had two nurses over the period, Willie Elliot and Connie Carter, who worked for him for 9 years and 35 years respectively. He was incredibly grateful for their help. Charles was a member of the National Guard from 1960 to 1968. He and Barbara traveled to 49 states.
He is survived by his wife, Barbara, his sons, Scott (Kelley) & Steve (Cindy), and his grandchildren, Benjamin, Elizabeth, Corbin, Bailey, Matt, and Jordan. He inspired some of his children and grandchildren to enter medicine and the medical field—following in his footsteps.
In later years, Charles immensely enjoyed seeing and keeping up with his patients—near and far—as he exercised or drove his always spotless car around town. They were excited to see him and all had wonderful stories to share. He loved to attend the annual scholarship night at Siloam Springs High School to see his patients graduate and embark on new adventures. In lieu of flowers, donations to the Siloam Springs High School Scholarship Fund, 700 N. Progress, Siloam Springs, Ark. 72761, are greatly appreciated.
Funeral services will be 2 p.m., Tuesday, June 18, 2019 at First United Methodist Church in Siloam Springs. Burial will follow at Oak Hill Cemetery in Siloam Springs. Visitation will be from 6 p.m. to 7:30 p.m., Monday, June 17, 2019 at Wasson Funeral Home in Siloam Springs. To sign the online guestbook, please visit www.wassonfuneralhome.com.
Published June 16, 2019
OBITUARY SUBMITTED BY:
Wasson Funeral Home, Inc.
441 West Hwy 412, P.O. Box 29, Siloam Springs, AR
Phone: 479-524-5131
http://www.wassonfuneralhome.com