David Livingston Burrough
Katy, TX, 1937 - 2019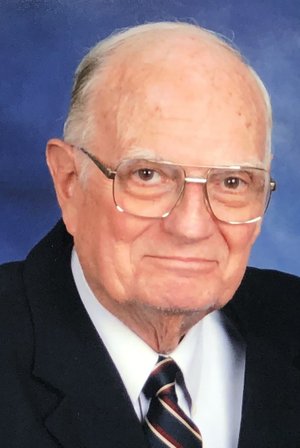 David Livingston Burrough, born January 28, 1937, in Fort Smith, Arkansas, died after a long illness on February 23, 2019, in Katy, Texas.
He is survived by his wife of 60 years, Mary Anne; his brother, John M. Burrough (Mary); three children: Lee Anne (Gary Riley), Jane (Mark Antoine), David Austin (Rhonda); six grandchildren: Rhae, Molly (Weston Novelli), Chris, Alex, David, Corey, and many family and friends. He was preceded in death by his parents Mildred and John V. Burrough of Van Buren, Arkansas.
David was a long time member of the Boanerges Sunday school class at Trinity United Methodist Church in Little Rock, Arkansas, before moving to Katy, Texas, in 2005. There he attended St. Peter's United Methodist Church as a member of the Left-Over-Friends Sunday school class. While in Little Rock, he served for many years on the troop committee of Boy Scouts of America Troop 336 and served the BSA Quapaw Council as well.
Family was very important to David. He was always a part of his children's and grandchildren's activities, including numerous band and orchestra concerts, dance recitals, plays, soccer, baseball, softball and basketball games, school projects, Boy Scouts, castle building and doll bed construction.
As a child, David loved to read and learn about world geography and military history, especially the Civil War, and started his extensive stamp collection. David graduated as valedictorian of Kemper Military School High School. He earned bachelor's and master's degrees in business administration while in Army ROTC at the University of Arkansas where he was a member of Lambda Chi Alpha. After serving briefly on active duty in the US Army, he began his career in the finance branch of the US Army Corps of Engineers as an auditor.
Over a 40-year career, he became interested in economic development and environmental impact and worked on the development of the Kerr McClelland waterway system in Oklahoma and Arkansas, retiring as the Deputy District Engineer for Project Management, the top civilian position in the Little Rock District. David was inducted into the Arkansas River Historical Society Hall of Fame in 2015 for his body of work with the Corps of Engineers.
The family will receive friends from 10 a.m. to 11 a.m. on Saturday, March 2, 2019 at St. Peter's United Methodist Church in Katy, where funeral services will follow at 11 a.m. on Saturday. Interment in Katy Magnolia Cemetery. To express condolences, please visit www.SchmidtFuneralHome.net. Funeral services held under the direction of Schmidt Funeral Home, 1344 W. Grand Parkway South ~ Katy, Texas 77494 ~ (281) 391-2424.
Published March 2, 2019