James Buttram
Rogers, AR, 1935 - 2019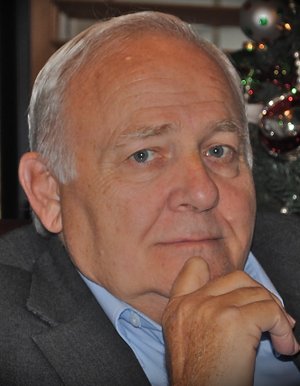 Rev. James Gordon Buttram born December 8, 1935 in San Jose, California in the Santa Clara Valley to Mr. John Buttram and Mrs. Hester Almeda Rogers. He entered into his eternal rest on Wednesday, March 6, 2019 at the Circle of Life Hospice in Springdale, Arkansas.
Pastor Buttram is survived by the love of his life and wife of 62 1/2 years, Velma Marie Wright. They were married in Rio Dell, California (Humbolt County) on June 27, 1957. He is also survived by his three daughters and their husbands all of Rogers, Arkansas. Jacquelin Buttram-Brownell and her husband Rev. Scott Brownell; Charlotte Buttram-El-Adaoui and her husband Abdul El-Adaoui; and Angela Buttram-Herferd. Also, Mr. Buttram has six grandchildren: Bethany Walmsley (Evan), Brittany Humes (Justin), Rev. James Brownell (Grace), Kathryn Rodgers (Pastor Logan), Sherene El-Adaoui, Bradley Williams, and Brooke Woods. He also has six great-grandchildren: Caitlyn and Addison Humes, Jackson and Emery Walmsley, Eleanor Rodgers and Daemon Wood all of Benton County. Also, his brothers-in-law, Freddy Joe Wright of Glenwood, Arkansas, Raymond Miller of Rio Dell, California and one sister-n-law, Sharon Buttram of Springfield, Missouri.
Mr. Buttram held a Masters Degree in Human Relations and Psychology from Golden State University. He served as Manager for Metropolitan Life Insurance in Roseville, California. He will be remembered as dedicating his life to full time ministry and was Ordained by the Assemblies of God for over 50 years. Pastor and Mrs. Buttram built churches, pastoring full-time and raising monies for philanthropic venues to feeding and clothing those without for over 40 years. He served in the Northern California and Nevada District of the Assemblies of God as presbyter where he constructed a church, Calvary First Assembly of God in Hilmar, Calif. In addition, he pastored and served in the Arkansas and Louisiana Districts of the Assemblies of God. In 2001, he and his wife moved from Roseville, Calif. to retire in Arkansas and to be close to their children, grandchildren, and great grandchildren. Pastor Buttram always held a strong conviction for God's Holy Word and has taught in the local church up until his health did not permit him to do so.
Pastor Buttram loved singing and gospel music and at the drop of a hat could sing any hymn from memory by request. Matter of fact, he loved singing mother love songs in his last days on earth. It is no secret that he was a master gardener and landscaper. He would grow gardens to feed his own family and those around him. He will be missed pruning his fruit trees and canning the fruits of his labor. Last, he loved the annual vacations with his wife and daughter's as they would travel from California to Arkansas each year to Montgomery County to see grandparents and hold the annual summer revival meeting.
Pastor Buttram was a God fearing man and set the standard high for living a holy life. You would never hear a cross word from his lips because he exemplified holiness. He enjoyed teaching the Word of God with accuracy and the anointing.
James has been received into heaven by his family that has gone on before him. They are his parents, brothers, and one sister (Mr. John Buttram, Mrs. Hester Almeda Rogers-Buttram, Doris Miller, Daniel Buttram, Alva Buttram, and Mervin Buttram).He often spoke of his family whom was of the Seminole Nation in Oklahoma.
James served in the Korean Conflict with the United States Army and will be provided full military honors by the Northwest Arkansas Honor Guard of Rogers, Arkansas.
Visitation will be Friday from 9 a.m. until 10 a.m. at New Hope Assembly of God Church located in Rogers, Arkansas. A celebration of life will begin at 10 a.m. His internment will be private at the Black Springs Cemetery in Norman, Arkansas. Arrangements by Epting Funeral Home Bentonville. Condolences: www.eptingfuneralhome.webs.com.
Published March 7, 2019
OBITUARY SUBMITTED BY:
Epting Funeral Home
709 N. Walton, Bentonville, AR
Find it at: corner of Walton and College
E-mail: eptingfuneralhome@inbox.com
Phone: 479-273-3443
http://www.eptingfuneralhome.webs.com/