Atalaya Thompson
Fayetteville, AR, 2000 - 2019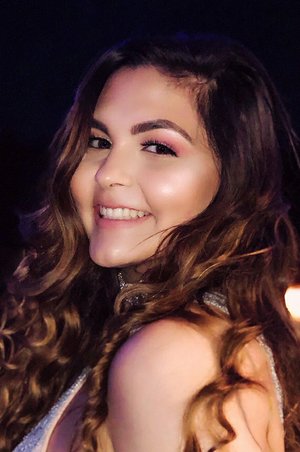 Our Princess, Atalaya Camillia Thompson, age 19, of Fayetteville, Arkansas passed away Tuesday, May 7, 2019 at 12:11 a.m. in Fayetteville, Arkansas in a motor vehicle accident.
Atalaya was born January 4, 2000 in Springdale, Arkansas and graduated from Fayetteville High School, May 2018.
Atalaya is survived in death by her mother; Jessica Garcia, of Fayetteville, her father Aaron Thompson and step mother Shawnia Thompson, of Bentonville, Arkansas.
Atalaya a beloved sister to her big brother, Aaron Thompson Jr which she adored as much as he did her, her baby brother Brayden that loved his Sissy Poo and half sister Lulonee Thompson.
She is also survived by her maternal grandmother, Rosalinda Garcia of Springdale, Arkansas. Paternal grandparents, Guy and Sheryl Thompson of Bella Vista, Arkansas. Her loving aunts Michelle Moreno Fierro, April Garcia, Kristie Garcia, Chasity Garcia and uncles, Dominick Fierro and Adam Thompson. She is also survived in death by numerous cousins, great-aunts and great-uncles that love and adore her. Proceeded in death by her maternal grandfather, Dimas Garcia.
In Heaven Atalaya will forever be in the arms of her first true love Christopher Gutierrez, both taken from their families arms far too soon.
Atalaya had the purest love of life, family and friends. A true beauty inside and out, honest and soulful with the ability to touch a life with a few simple words of wisdom and encouragement. Taken from this world too soon she will be our beautiful guardian angel, our protector. The shining star in the sky, which will never dim. She will always be with us, heart and soul.
Atalaya loved her friends dearly. Atalaya and Elijah were by each other's sides through the best and the worst, a lifelong love. Lexie Rice, Lily Paez-Garcia and Anthony Garcia. True friends with memories forever cherished.
A Memorial will be held Saturday May, 18, 2019 at St. Pauls Episcopal Church, 224 N. East Avenue, Fayetteville, Arkansas at 1 p.m.
A Celebration of Life will be held Sunday May 19, 2019 at 4 p.m. at Sassafras Springs Vineyard, 6461 East Guy Terry Road Springdale, Arkansas.
Memorial donations may be sent to Atalaya Thompson Facebook Memorial Fund. Please send memorial flowers to Sassafras Springs Vineyard on Sunday May 19th.
Arrangements by Epting Funeral Home Fayetteville. Condolences: www.eptingfuneralhome.webs.com.
Published May 17, 2019
OBITUARY SUBMITTED BY:
Epting Funeral Home
709 N. Walton, Bentonville, AR
Find it at: corner of Walton and College
E-mail: eptingfuneralhome@inbox.com
Phone: 479-273-3443
http://www.eptingfuneralhome.webs.com/