Barbara Yvonne Rainwater
Prairie Cove, AR, 1931 - 2019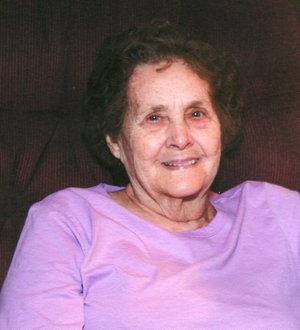 Barbara Yvonne (Davis) Rainwater, 87, of Prairie Grove passed away Thursday, May 23, 2019 in a local hospital. She worked for Wortz Biscuit Company in Fort Smith, and an administrator in a local nursing home in Prairie Cove. She was raised by her grandparents Frank & Iola Marley. She was born at St. Edwards Hospital in Fort Smith, lived, and graduated from Fort Smith High School in 1949. She married Vernon Rainwater in June of 1951. She had met him while Vernon and one of his brothers had visited her church New Bethel Assembly of God Church in Fort Smith. A short two months later they married and never missed a day being together. She was a loving wife and mother. She was preceded in death by her parents B.H. and Charlotte Mae (Marley) Davis.
Graveside service will be held at 11 a.m. Saturday, June 1, 2019 at Hall Cemetery in Natural Dam under the direction of Ocker Funeral Home in Van Buren.
She is survived by her husband of 68 years, Vernon of the home; two daughters, Charlotte Smith and husband Tom, Vera Dee Rainwater all of Prairie Grove; two sons, Robert H. Rainwater of Connecticut, Rickie Rainwater of Fayetteville; one sister, Glenda Syrock of Texas; one brother, Richard B. Davis of Texas; six grandchildren; four great-grandchildren.
The family will visit with relatives and friends Thursday, May 31, 2019 from 5 p.m. to 7 p.m. at Ocker Funeral Home, 700 Jefferson Street, Van Buren, Arkansas. Online tributes: www.ockerfuneralhome.com.
Published May 29, 2019
OBITUARY SUBMITTED BY:
Ocker Funeral Home
P.O. Box 5620, Van Buren, AR
E-mail: ockerfh@cox-internet.com
Phone: 479-474-2523