William H. "Bill" Jett
Hot Springs Village, AR, 1923 - 2019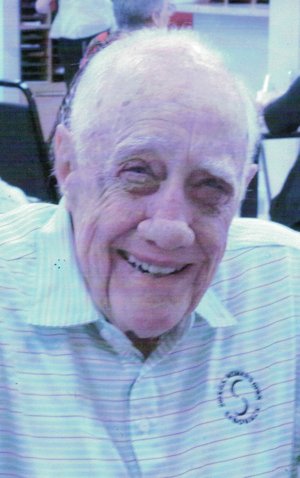 William H. ("Bill") Jett, 96, peacefully passed away at Good Samaritan Assisted Living, Hot Springs Village, Arkansas on November 14, 2019. The family is confident that Bill is now in heaven with his beloved Peggy, who he sorely missed since her passing in 2012.
Bill was born in Clarksville, Arkansas on September 30, 1923 and lived in Fayetteville until he was 10. He became a lifelong Razorback fan during his early years in Fayetteville. The family moved to Little Rock where Bill graduated from Little Rock Senior High in 1942. He attended the University of Arkansas, where he was a member and president of Kappa Sigma. Bill was one of a minority of men in college in these war years, having been rejected by the armed services due to childhood asthma. Perhaps this gave him an advantage when he met the love of his life, Peggy Brown. They married in 1947 and moved to Helena.
Bill began work in the construction industry as an estimator with Dickman, Pickens and Bond in 1954. He then worked at Matson Construction before he started his own commercial construction company, Jetco, Inc. in 1971.
After retirement, Bill was able to devote more time to golf. He played almost daily at Rebsamen Golf Course with their men's group, affectionally called the DPs. When The First Tee opened in Little Rock, he was able to share the game he loved with the kids he loved. As a volunteer at The First Tee, Mr. Bill taught hundreds of children how to swing a golf club. More importantly, he taught them to respect the game and its rules and to value the friends they would make for a lifetime.
Bill was predeceased by his parents Herbert and Bessie Jett and his wife of 67 years Peggy Brown Jett. He is survived by his daughters Martha Jett McAlister of Hot Springs Village, Ark. and Leslie Jett Sweeney(John) of Memphis, Tenn. and his three grandchildren Jett McAlister of New Haven, Conn., Patrick Sweeney and Rachel Sweeney of Memphis, Tenn.
A memorial service will be held on Monday, November 18, 2019 at Ruebel Funeral Home, 6313 W. Markham, at 3 p.m., followed by a reception. The service will be conducted by Jeff Hampton of Pulaski Heights United Methodist Church where Bill was a member. In lieu of flowers, memorials may be made to The First Tee of Central Arkansas, 1 First Tee Way, Little Rock, Ark. 72204 or a charity of your choice. Arrangements are under the direction of Ruebel Funeral Home, www.ruebelfuneralhome.com.
Published November 16, 2019
OBITUARY SUBMITTED BY:
Ruebel Funeral Home
6313 West Markham Street, Little Rock, AR
Phone: 501-666-0123
http://www.ruebelfuneralhome.com