Caroline Seiz Campbell
Hot Springs, AR, 1931 - 2019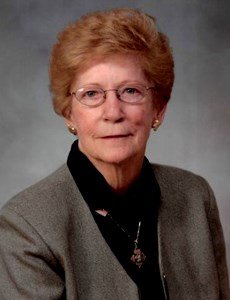 Caroline died in Hot Springs on September 21, 2019 after a brief illness. She was almost 88. Caroline was born on November 6, 1931 to Bill and Doris Seiz. She grew up in Hot Springs and was the co-valedictorian of the Class of 1949 at Hot Springs High School. Caroline then attended the University of Missouri, where she was a member and president of the Chi Omega Women's Fraternal Organization. She finished her degree in education at the University of Arkansas. She was married after leaving the University of Missouri to Carl Hamilton, whom she met at college. He was a Marine Corp Pilot. They had one son, David Hamilton. After teaching for a few years in the Little Rock School District, Caroline received a National Science Foundation Scholarship and attended LSU, where she received a Masters in Education, with a specialization in Mathematics. She then began teaching freshman algebra at the University of Arkansas at Little Rock, where she was consistently a favorite instructor selection by students.
Caroline married Rick Campbell in 1970. He was the Director of Public Relations for Arkansas Blue Cross & Blue Shield. Caroline was very close to her stepdaughter, Tina Campbell Brown. Caroline was well known in the mid-1970s as one of the vocal and proud Little Rock Central High moms, and she attended every one of her son's football and basketball games and track meets. Most everyone on those teams knew her. In the mid-1980s Caroline and Rick retired to Hot Springs. Following Rick's death and her father Bill Seiz's death, Caroline was involved with Seiz Sign Company from 1997 to 2005.
From the mid-1990s until recently, Caroline was actively involved in the Hot Springs community. She was always proud of her father's civic accomplishments and service to others. Caroline viewed her service as continuing the legacy of her father. She didn't seek recognition or praise for her contributions. However, her son and her family are proud of her. Some of the organizations she was involved in include the following:
1. St. Luke's Episcopal Church and Vestry,
2. NPC Board Member and later NPC Foundation Board Member,
3. Salvation Army Advisory Board Member,
4. Chamber of Commerce Blue Coats,
5. Daughters of American Revolution,
6. Melting Pot Genealogical Society,
7. Editor of the Kettle, A publication by the Melting Pot,
8. American Cancer Society, Board Member,
9. Museum of Contemporary Art, Board Member,
10. National Park Rotary,
11. Garden Club,
12. Investment Club at Stephens, Inc.,
13. Garland County Historical Society, and
14. A contributing writer to the Encyclopedia of Arkansas.
Caroline was predeceased by her parents and her two brothers, William Russell Seiz and Tyler Seiz. She is survived by her son David Hamilton and his wife, Tammy. She is also survived by her four grandchildren Meghan Littlepage and her husband Beau, Amber Henson and her husband Mitch, Ronny Skipper and his wife Shauna, and Erika Henderson and her husband Lance. To all of them and her nine great grandchildren (Cali, Abigail, Veronica, Oliver, Hank, Felix, Charlton, Harper, and Lane), she was known as Gram. Caroline was proud of her son and his family and grateful for their love. She was particularly grateful to her granddaughter Meghan and daughter-in-law Tammy who were by her side throughout this difficult time.
Our family would also like to acknowledge Martha Nevill, Caroline's best friend for 50 years.
Our family would like to thank Arkansas Hospice and the St. Vincent's ICU in Little Rock for their compassionate and competent care.
Caroline was a smart, good, and kind person. The world was a better place with her here. However, she left nine smart good great grandchildren to carry on her good works.
Goodbye Mom (Gram). You are missed tremendously, but not forgotten.
In lieu of flowers, the family requests that friends consider a donation to the Garland County Historical Society.
Caroline will be buried in a private ceremony at the Greenwood Cemetery next to her parents. If you wish to contact the family, you can reach David Hamilton at david@seizsigns.com
A memorial service will be held on Saturday, October 12 at 2 pm at St. Luke's Episcopal Church. There will be a celebration of her life reception immediately following the service, also at St. Luke's.
Online guestbook and tributes available at www.GrossFuneralHome.com.
Published October 6, 2019
OBITUARY SUBMITTED BY:
Gross Funeral Home
120 Wrights St, Hot Springs, AR
Phone: 501-624-1244