Ralph E. Holder
Benton, AR, 1935 - 2019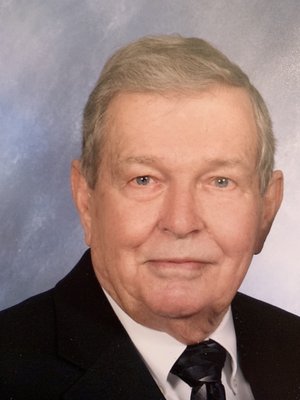 Ralph E. Holder, Sr., 84, of Benton, Ark., passed away Thursday, October 3, 2019 and went to be with the Lord. He was born on August 5, 1935 to the late M. C. (Buddy) Holder and Berta A. Burks Holder.
He attended Benton Public Schools and graduated with the class of 1953. At an early age he worked for the Victory Theater and ran the projector. Later, he would work for the U.S. Post Office. First, as a city letter carrier and then a rural carrier. After, he retired Ralph could be found vacationing at the lake with Ann and friends. Ralph was a Mason and a Christian with a strong unwavering faith that God's way was the only way. He was a member of Holland Chapel for 50 years and First Baptist of Benton for 11 years.
Ralph is preceded by his parents and one brother, Norman Holder.
His wife and true companion of 62 years, Ann Hobbs Holder, survives him. Two sons, Ralph E. Holder, Jr. (Eddie) of Horseshoe Bend, Ark., and Don Holder of Benton, Ark.; grandchildren, Keeley Culver and husband Lance of Benton, Ark., Michael Holder of Keo, Ark., Hunter Holder of Benton, Ark., and Kelsey Holder of Lonoke, Ark.; one great-granddaughter, Delilah Culver of Benton, Ark., and one great-grandson on the way. His sister, Virginia DuVall and husband Wilson of Tull, Ark.; seven nieces; three nephews; and many cousins.
A funeral service will be held Monday, October 7, 2019 at 2 p.m., with a visitation one-hour prior at Roller-Ballard Funeral Home, 306 S. Main St., Benton, Ark., 72015 (501) 315-4047. Burial will follow at Fairplay Cemetery in Benton, Ark. Officiating the service will be Bro. Kim Hammer and Dr. Rick Grant.
Online guestbook www.rollerfuneralhomes.com\ballard.
Published October 6, 2019