Stephen Douglas Gray
Fayettevile, AR, 1948 - 2019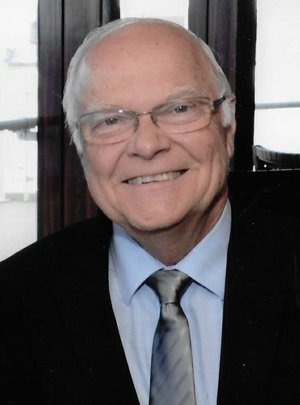 Stephen Douglas Gray, Lt Col (ret.), USAF, passed away Wednesday, October 2, 2019, at the age of 70, after a courageous battle with cholangiocarcinoma. He was born October 7, 1948, in Evanston, Ill., to Rollin Lester Gray and Barbara Rodelius Gray, and grew up in Glenview, Ill. He graduated from Glenbrook High School, Glenview, Ill., in 1966, and from Coe College, Cedar Rapids, Iowa, in 1970. He was a member of Phi Kappa Tau Fraternity and the basketball and football teams. Following graduation, he was commissioned as a second lieutenant into the United States Air Force where he served for 24 years. During this time, he married Sharon Jane Lawrence (in 1975), daughter of an Air Force Pilot, and they raised one daughter, Heather Elizabeth Gray (Walk), born in 1979, who followed in her father's footsteps as a USAF Officer.
Steve's Air Force career included serving as an Air Controller in Vietnam and later, Squadron Commander, Advisor, Staff Officer and Director. As a weapons controller on the EC-121 Constellation Early Warning Aircraft he was assigned in Panama, California and Iceland. Steve served as Director of the Air National Guard Recruiting and Retention Program at the Pentagon and was the Air National Guard Advisor to the Commander in Chief, United States Air Forces Europe (USAFE) while stationed in Germany. His military awards included the Bronze Star Medal, Republic of Vietnam Cross of Gallantry, Vietnam Armed Forces Service Medal First Class, Air Force Commendation Medal, First Oak Leaf Cluster, Meritorious Service Medal, First Oak Leaf Cluster and the US Air Force Master Weapons Controllers Badge.
After retirement from the US Air Force in 1994, Steve became the Military Advisor for then Congressman (now Arkansas Governor) Asa Hutchinson. Steve then went to work for Congressman (now Senator) John Boozman as the Senior Military and Veterans Advisor. During this time, his most rewarding accomplishment was the presentation of medals in special ceremonies that Senator Boozman's office conducted throughout the state to honor Arkansas veterans for their military service. He conducted close to one thousand ceremonies and personalized each one for the respective veteran's military service.
Steve retired from Senator Boozman's office in January 2015. However, he did not stop serving or working to assist Arkansas Veterans or his local community. He volunteered his time with civic and Veterans Service Organizations including Lions Club (past President), Fayetteville Exchange Club, American Legion (past Commander, American Legion Post 27, and Vice-Commander, American Legion, Department of Arkansas), Veterans of Foreign Wars, Fayetteville Chamber of Commerce, Fayetteville Autumnfest Committee, NWA Veterans Day Association (Chairman and organizer of the annual Veterans Day Parades), Singing Men of Arkansas, Veterans Healthcare System of the Ozarks, Military Officers Association of America and the Fayetteville National Cemetery Advisory Council (where he served as its first Chairman and organizer of the Annual Memorial Day Ceremony). He also volunteered with Hospice of North Arkansas and the Walton Arts Center.
In October 2018, Steve was inducted into the Arkansas Military Veterans' Hall of Fame. In September 2019, Mayor of the City of Fayetteville, Lioneld Jordan, proclaimed October 7, 2019, to be "Stephen Gray Day" in honor of his contributions to Veterans and his advocacy for the needs of service members across the state along with his tireless community service.
For all of his achievements, Steve was truly the happiest spending time with his family, traveling, sailing, camping, playing guitar, singing (mostly John Denver songs), cheering for his beloved Chicago Cubs (ecstatic when they finally won a World Series in 2016) and rooting on the Razorbacks.
Steve is survived by Sharon, his wife of almost 44 years; their daughter, Heather (son-in-law, Vic Walk, Lt Col, USAF) of Washington, D.C.; three sisters, Diane Kip Gray Herbst of Tooele, Utah, Jacquelyn Gray Harwood (Gerald) of Park City, Utah, and Pamela Jeanne Gray Burns (Joseph) of Idaho Falls, Idaho; one brother, Preston Bradley Gray (Dianne) of Minneapolis, Minn.; two brothers-in-law, David Lawrence and Paul Lawrence, Jr. (Anita); two sisters-in-law, Vicki Clark (Ron) and Mary Beth Donahue (Kelly); 19 nieces and nephews; and numerous great-nieces and nephews.
Funeral services will be held at 10:30 a.m. on Friday, October 18, 2019, at University Baptist Church in Fayetteville. Interment will follow with full military honors at the Fayetteville National Cemetery. In lieu of flowers, memorial contributions may be made to the Cholangiocarcinoma Foundation at https://cholangiocarcinoma.org/ or mailing it to 5526 West 13400 South #510, Herriman, Utah 84096, the Fayetteville National Cemetery Advisory Council at 3055 N. Quartz Drive, Fayetteville, Ark., 72704, the Lions Club at https://e-clubhouse.org/sites/fayettevillear/ or the Northwest Arkansas Veterans Coalition at https://www.facebook.com/nwaveterancoalition/. To place an online tribute, visit www.nelsonberna.com.
Published October 13, 2019
OBITUARY SUBMITTED BY:
Nelson-Berna Funeral Home and Crematory
4520 North Crossover Road, P.O. Box 8982, Fayetteville, AR
Phone: 479-521-5000
http://www.nelsonberna.com