Sue Hudsonpillar Trommler
Camden, AR, 1927 - 2019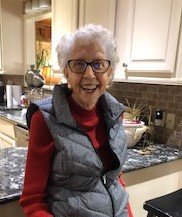 Sue Hudsonpillar Trommler, 91, of Camden, Ark., joined the Lord in peace Friday, October 25, 2019. She was born December 12, 1927 in Hominy, Okla. She was a member of First Baptist Church, devout Christian and friend to many, always offering her caring spirit to others. She worked as office manger alongside her first husband, Dr. Henry Hudsonpillar in his Chiropractic Clinic; following his death, she found great success in a second career as a real estate agent with Womack Brothers Realty.
She was preceded in death by husbands, Dr. Henry L. Hudsonpillar and Kenneth H. Trommler; daughter, Rita Hudsonpillar; sister, Jeanne Ingle; her parents, Clyde Homer Carrington and Dot Wallace Carrington Buckland, and stepfather, John Buckland. She is survived by her daughters, Deb Sanders and husband, Dr. Cal Sanders of Camden, Ark., Barbara Edwards and husband, Charles Edwards of Hot Springs, Ark., and Ruth Ellen Lindsey and husband, L.E. Lindsey of Camden, Ark., a son Travis Stith of Camden, Ark., and a grandson, Jeff Edwards of Memphis, Tenn.
Graveside services will be Monday at 10 a.m., at Memorial Park Cemetery in Camden. Peggy Abbott and Ham Singleton will officiate the service. The family would like to give a special thank you to Netta Holloway, Faith Holloway, April Dosier, Jennifer Williams, Melissa Bryan, Frances Cross, Laci Dosier and Christy Boykin. Memorials may be made to the charity of your choice. Proctor Funeral Home is in charge of arrangements. To sign the online guest register visit www.proctorfuneralhome.com.
Published October 28, 2019