Geraldine Crowder
of Sherwood, AR, 1926 - 2019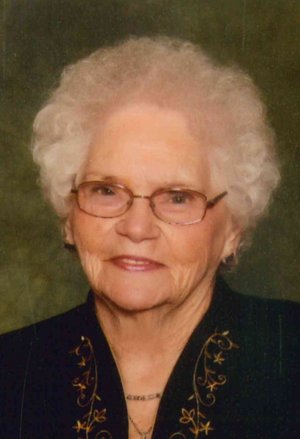 Geraldine Spurlock Crowder, age 93, a longtime resident of Sherwood, Arkansas, went to be with our Lord on October 27, with her loving family at her side. She was born in Martin, Tennessee on September 8, 1926 to Clyde Cicero Spurlock and Lucille Robertson Spurlock.
She nourished people around her with love, faith, and everlasting friendships up until her last breath. She brought unique and precious gifts to not only her children and grandchildren but to everyone blessed to be a part of her life. She always told her family what a wonderful blessing they were to her and how much she appreciated the loving care they provided throughout her life.
Geraldine was her children's hero, her friend's treasure and God's special gift to the world. Even though the touch of her hands and the gentle kisses are gone forever, her family will hold her love and devotion in their hearts until the end of their days. Her children, her remaining family and dear friends will miss her dearly, but with true faith in God and the passage of time, they will embrace her again as they join her in Heaven one day.
She is survived by six children, Dianne Cunningham (Donald), Marsha Sobczak (Jim), Joel Crowder, Sr. (Susan), Jon B. Crowder, Tara Efird (Mark), Jay Crowder daughter-in-law Vonda Crowder (wife of the late James B. Crowder, Jr.). She treasured her 14 grandchildren, 28 great-grandchildren, and seven great-great-grandchildren (with one arriving in January). She is preceded in death by her husband of 47 years, James B. Crowder Sr., and a beloved son, James B. Crowder Jr., and a precious grandchild, Jerry Bonner Burris.
Family will receive friends beginning 11 a.m. Tuesday October 29, 2019. A celebration of Geraldine's life will follow at 12 noon. Burial will be at a Wednesday October 30, 2019 at 11 a.m. in Little Rock National Cemetery where she will rest in peace beside her husband.
The family asks that in lieu of flowers, a memorial donation may be made to: The Colorectal Cancer Alliance, 1025 Vermont Ave., NW Suite 1066, Washington, D.C. 20005 (www.ccalliance.org) or the Arkansas Children's Hospital. Online Guestbook at www.smithfamilycares.com.
Published October 29, 2019
OBITUARY SUBMITTED BY:
North Little Rock Funeral Home
1921 Main St, North Little Rock, AR
E-mail: mail@nlrfh.com
Phone: 501-758-1170