Louis Lee Sanders Jr.
of Little Rock, AR, 1929 - 2019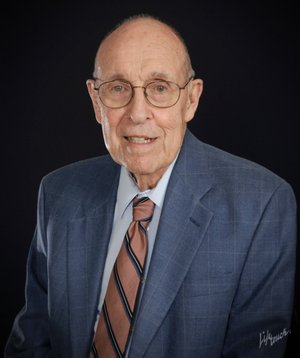 Dr. Louis Lee Sanders Jr., died on September 1st, 2019. He was born in Little Rock on May 18, 1929 to Louis Lee Sanders Sr., and Helen Lucile Mann Sanders. When he was six years old, his family moved to Fairmont, West Virginia. Because of World War II, and a shortage of men, he was drafted at age 15…into the church choir! Music became one of Lou's lifelong passions. When he was 16, his family moved to Jamestown, New York, where he graduated from Jamestown High in 1947. He attended Allegheny College, in Meadville, Pennsylvania, joining the Theta Chi fraternity. During his freshman year, his family moved back to Arkansas. For his sophomore year, he attended Little Rock Junior College and began singing in the choir of Pulaski Heights Methodist Church, which he continued for over 70 years! He graduated from the University of Arkansas in 1951 Phi Beta Kappa, with a BS in Zoology. Lou originally planned to get a PhD and teach at the college level, but he was convinced by friends to go to medical school and teach there instead. He began med school in the fall of 1951. He thrived there, graduating first in his class, where he was a member of Alpha Omega Alpha. Dr. Sanders completed a rotating internship at Philadelphia General Hospital, and then returned to Little Rock, where he began his residency at UAMS. There he met his future wife, Cathy Schanche, who was a registered dietician at the University Hospital. Lou became a naval doctor in 1957, and their relationship continued long distance. Lou proposed while Cathy visited him in California, where he was stationed. They were married in November 1958, and upon his discharge from the military, they returned to Little Rock, where Lou continued his residency, after completing a masters in biochemistry so that he could teach. Over the next few years, they added four daughters to their family: Leslie, Meredith, Kim, and Shari.
Lou was a devoted father, spending time with his daughters was a priority. He was home every night for family dinner. He spent Father's Day for 18 years at dance recitals! They took long cross-country car trips to visit family and see the sights. They spent fall weekends with family friends at various state parks. They spent summer weekends on Lake Hamilton in Hot Springs.
Lou loved to teach. He won the Golden Apple Award for outstanding clinical instructor six times, and was runner-up five times, over his career. He also won the Outstanding Faculty Award for the Medicine Department in 1984, and the Distinguished Faculty Award for the Arkansas Caduceus Club in 1995. The Arkansas Chapter of the American College of Physicians presented him the Abernathy Award in 1994 for his work and dedication to the internal medicine field. He was awarded the title of Professor Emeritus of the Department of Medicine at UAMS in 1997, and Master of the American College of Physicians in 2006. He was voted into the UAMS Hall of Fame in 2012. He always said that the road to senility was paved with plaques.
As an endocrinologist/rheumatologist, he was involved in the American Rheumatism Association and the Arthritis Foundation, where he received a National Volunteer Citation in 1976, and the National Award for Distinguished Service in 1981. Lou was also involved in the Arkansas Chapter of the American Diabetes Association, and he was the Vice President of the Arkansas Arthritis Foundation. He served his community as the President of the Board of Friends of KLRE, the Chairman of the National Profession Education Committee, served on the Council of Academic Affairs and a LOT of committees!
The center of the Sanders home was always Pulaski Heights United Methodist Church. Lou's father was one of the founding members, and if the doors were open, the Sanders were there. He began singing in the chancel choir in 1949. He served on the Board of Stewards, the Commission of Education, the Missions Board, and the Staff Parish. He was a founding member of both the Adventures in Arts Board and the Landscape Committee. With his wife, Lou was instrumental in establishing the Columbarium Garden Board at Pulaski Heights. The Pairs and Spares and Dietz Dialogue Sunday School classes were extended family.
Lou's main hobby was gardening. He was an avid gardener and spent hours working in his backyard oasis every week. He was also a master gardener.
He is survived by his four children, in whom he engendered hope, character, the importance of service and love of life: Leslie Frank (Mitchell), Meredith Krebel (Steve), Kim Fuerst (Dave), and Shari Sanders. He is also survived by ten grandchildren: James and Andrew (Samantha) Frank, Grace Prigge (Andrew) and Natalie Higgins (Will); Hunter, Hannah, Heather, and Halle Krebel; and Sara and Austin Fuerst. He is survived by his brother-in-law, Jerry Speers, and sister-in-law, Sara Sanders: sister-in-law, Marie Hart, and brother-in-law, Dr. Arthur F. Schanche, (Mary Lou), and many nieces and nephews.
The family would like to thank Shari, for taking such good care of Daddy, the staff and members of Pulaski Heights United Methodist Church, and the PHUMC Chancel Choir, especially Jim Maase. Kearney Dietz made an eternal impact in Lou's life.
A memorial service will be held on Friday, September 6th, at 11 a.m. at Pulaski Heights United Methodist Church. Memorials may be made to Pulaski Heights United Methodist Church, Louis and Cathy Sanders Music Endowment, 4823 Woodlawn, Little Rock, Ark. 72205.
Published September 4, 2019