Clifton L. Ganus Jr.
Searcy, AR, 1922 - 2019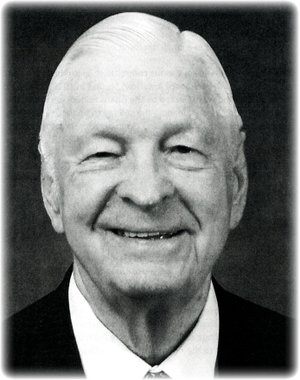 Dr. Clifton L. Ganus Jr., of Searcy, Ark., passed from this life at 7:45 p.m. on September 9, 2019. Born in Hillsboro, Texas, he moved with his parents to San Antonio and Dallas before they settled in New Orleans in 1929. His family raised him to be devoted to Christ, and when his parents drove him to Searcy, Ark., in 1939, his other two bonds were established. The first was with Louise Nicolas, of Strawberry, whom he met within the first ten seconds of his arrival on campus and married 90 minutes after his graduation; the second was with Harding College/University, his alma mater and the institution which he would serve and guide for 73 years.
After graduating from Harding in 1943, he moved with Louise to preach in Charleston, Miss., also speaking regularly at nine other nearby congregations. He then earned his master's degree and his Ph.D. in history from Tulane University and did further study in higher education administration at Columbia University. He lectured on various subjects throughout the country and at universities in Romania, Ukraine, and China. His lectures and films on the American economy in the 1950s and 1960s were influential.
Dr. Ganus traveled to 117 countries; he climbed the Great Pyramid of Giza, rode the Trans-Siberian Railroad, and drove rented cars thousands of miles in unfamiliar territories, constantly gathering political, economic, and cultural information. Less academically oriented were his annual fishing trips in Alaska or on his four journeys down the Mississippi River to New Orleans in a small runabout boat.
He began teaching at Harding College in 1946, served on various committees, was named the Chair of the Department of History in 1951, and the Dean of the School of American Studies in 1952, and was appointed Vice-President of the college in 1956. In 1965, he was selected by the board to become the third president of Harding College, and he served in that role for 22 years, leading the college to university status and to significant growth in enrollment, academic breadth, and facilities. Upon his retirement from the presidency in 1987, he was named the university's chancellor, becoming chancellor emeritus in 2013.
He was also active in civic events. As a former Eagle Scout, he served on the Quapaw Area Council, and he was an active member of the Searcy Lions Club for 70 years.
As a participant and supporter, Dr. Ganus was involved in athletics all of his life. During his time in Charleston he volunteered to coach high school football, basketball, and baseball teams, leading the football squad through an undefeated season. He played baseball in the New Orleans intra-city league, and he was involved in all intramural sports as a Harding student and, later, as a faculty member. As vice-president, he was an important force in the re-establishment of intercollegiate football at Harding, and he was one of the most dedicated and knowledgeable supporters of Harding athletic teams throughout his life.
He was an elder at the College Church of Christ for 54 years, and concern for God's kingdom on earth was the basis for his choices. He preached, spoke on lectureships, and wrote throughout his life. He was an active supporter of mission work, in this country and abroad. Seeing a special opportunity, he developed, guided, and funded a Christian secondary school in the village of Nawongoma, Uganda, that has trained hundreds of alumni, many of whom have become great assets to their communities and churches.
To celebrate their 50th anniversary in 1993, he took his wife on a journey around the world, arranging to be at the Taj Mahal on their anniversary date. The journey concluded with a month of church work in the cities of Gorlovka and Donetsk, Ukraine.
A proud and dedicated patriarch known to all of his family as PawPaw, he leaves behind Louise, his wife of 76 years; three children, Cliff III (Debbie), Debbie Duke (Richard), and Charles (Patty), all of Searcy; 10 grandchildren, Sherrill Daugherty (Chris), Bill Ganus (Jessica), J. Cliff Ganus, Landon Ganus (Cassie), Johnna Raymond (Bret), John Richard Duke, David Duke (Lanny), Louisa Wicks (Daniel), Ashley James (Loren), and Kevin Ganus (Betsy); 18 great-grandchildren, Annalise Daugherty, Juliette Daugherty, Layla Ganus, Ralston Ganus, James Ganus, Abigail Ganus, Samuel Ganus, Isaac Raymond, Anna Raymond, Luke Raymond, Eli Duke, Caleb Duke, Asher Duke, Avey Wicks, Sam Wicks, Lucy Ganus, Laura Ganus, and Mary Ganus; and a host of others who looked to him for guidance and inspiration.
A celebration of Dr. Ganus's life will take place in the Benson Auditorium on the Harding campus on Sunday, September 22, at 2 p.m. Visitations with family and friends will take place at the College Church of Christ on Saturday evening, September 21, at 6-8 p.m. and on Sunday afternoon at 3:15-5 p.m. The family requests that, instead of flowers, memorial gifts be sent to the C.L. and Louise Ganus Endowed Scholarship Fund at Harding University. Online guestbook: www.rollerfuneralhomes.com.
Published September 15, 2019
OBITUARY SUBMITTED BY:
Roller-Daniel Funeral Home
411 E. Race Avenue, P.O. Box 97, Searcy, AR
Phone: 501-268-3546
http://rollerfuneralhomes.com