Katheryn G. Sims Mooney Ervin
Harrison, AR, 1938 - 2020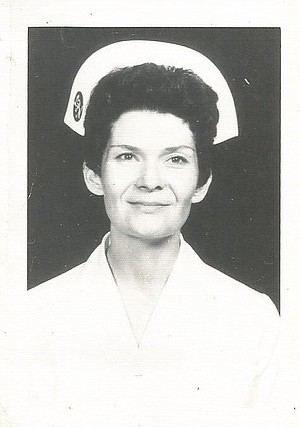 Katheryn G. Sims Mooney Ervin died July 10 at the North Arkansas Regional Medical Center in Harrison. She was a 1957 graduate of Harrison High School and a 1969 graduate of the nursing program at Twin Lakes Vocational-Technical School. Through her nursing skills, she built a career in the healthcare profession and made a living for herself and her two young daughters. She retired from the Boone County Hospital/North Arkansas Medical Center, after working on the surgical floor for 21 years. She was known for her excellent and compassionate care of patients. In 1981 she was recognized by the hospital as an outstanding employee. Former patients often stopped her on the street to say "thank you."
Katheryn was born at Compton, Ark., on Oct. 4, 1938, to Tillman Allan Sims and Jessie LaRue Deakins Sims. She was the third of seven children and grew deep roots during a childhood surrounded by her brothers, sister, and extended family of uncles, aunts, and cousins atop Gaither Mountain. Her early life revolved around the communities of Compton, Hill Top, and Plumlee. Swimming in the "booger hole" was a treasured treat on hot summer days. She developed a love of nature – especially rocks, roosters, and native plants such as wild Bee Balm (known in the family as Horse Mint) and Honeysuckle Azalea. She loved historic sites such as the Sims Mill at Compton. After her retirement in 1990, she took up oil painting to capture scenes from the mountain. Family and friends have been blessed with her paintings.
Never one to pass up a good yard sale or flea market, Katheryn enjoyed collecting and using depression era dishes. It was a hobby she shared with her daughters. She loved sewing and made many clothes for her daughters when they were young. She also liked to crochet and made her famous pinecone-patterned doilies for her special friends and family members.
Katheryn was a long- time member of Capps Road Church of Christ in Harrison. She loved and depended on her church family. She cherished being a part of the women's bible study group.
She was predeceased by her second husband, Mitchell Ervin, her parents, her oldest brother, Harland Sims Sr., and an infant sister, Rhonda Sims. She is survived by her two daughters: Mary Hickman of Harrison and Jackie Stites (Wesley) of Fayetteville; step-sons Ron Ervin (Pat) of Springfield, Mo., and John Ervin (Reginia, deceased) of Harrison; sister Priscilla Kay Pace of Harrison; brothers Louis Sims (Wilma), Jake Sims (Tina, deceased), and Lester Sims, all of Harrison; grandchildren Claire Stites of West Lafayette, Ind., Corwin Stites of Annapolis, Md., Caroline Stites of Columbia, Mo.; step-grandchildren Carrie Kauffman (Todd) of Berryville, Matt Ervin (Julie) of Seymour, Mo.; and many loving cousins, nieces, a nephew, nephews-in-law, and step great-grand-children.
Arrangements are by Roller-Christeson Funeral Home. Out of an abundance of caution during the COVID-19 pandemic, an open visitation will be held at the Roller-Christeson Funeral Home on Monday, July 13, from 10 a.m.-5 p.m. Friends and family may stop by at their convenience. The immediate family will not try to receive visitors due to the importance of social distancing. A funeral service will be held at 10 a.m. on Tuesday, July 14, at the Roller-Christeson Funeral Home followed by interment at Maplewood Cemetery. Norman Sewell of Capps Road Church of Christ will officiate. Pallbearers are John Ervin, Matt Ervin, Ron Ervin, Lyndon Johnson, Eldon Roberts, and Wesley Stites.
The family wishes to thank Dr. Steve Shrum, the nurse practitioners, and the staff of Cornerstone Medical Clinic for their excellent, compassionate care of Katheryn. They ask that memorials be sent to the nursing program at North Arkansas College (North Arkansas College Foundation, 1515 Pioneer Drive, Harrison, Ark., 72601). Twin Lakes Vocational-Technical School and North Arkansas College merged in 1993. The service will be live streamed on the Roller-Christeson Funeral Home Facebook Page.
Published July 13, 2020
OBITUARY SUBMITTED BY:
Roller-Christeson Funeral Home
519 N. Spring Street, P.O. Box 100, Harrison, AR
Phone: 870-741-3113
http://www.rollerfuneralhomes.com