Ila Carol Bledsoe Ball
of Little Rock, AR, 1935 - 2020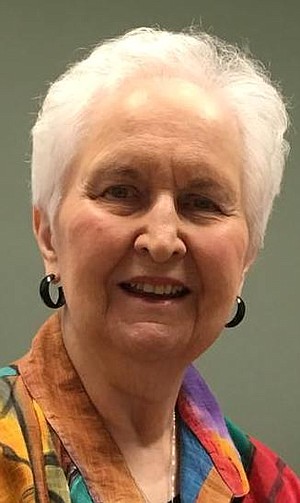 Ila Carol Bledsoe Ball passed peacefully from this life into heaven June 17, 2020. Ila Carol was born in Shamrock, Texas, April 23, 1935. She grew up in Kelton and Shamrock, Texas, graduating from Shamrock as Valedictorian. Her singing voice was so extraordinary that she was encouraged to attend Juilliard School of Music but chose instead to attend Scott & White School of Nursing in Temple, Texas. She graduated with a diploma in nursing and met the love of her life, Ed Ball, who was stationed there with the Army. They were wed 7 months later. From that union were born a daughter, Susan Beth and a son, Eddie (Edward Bernard). Ed and Carol's love for one another and for the people of Eudora was demonstrated daily through their service roles at Eudora Baptist Church, Ball's Grocery Store, and through Carol's career with the Chicot County Health Department. Carol lost her son, Eddie, in 1985, and Ed passed away in 2015, after which Carol moved to Little Rock to be near her daughter, Susan.
Ila Carol was preceded in death by her parents, Lewis Carroll and Mary Elizabeth (Lummus) Bledsoe, her sister and brother-in-law, Mary Lois (Bledsoe) and Perry Mack Scott, and her brother-in-law, David Britt. She has also been preceded by her beloved husband, Edward (Ed) Bernard Ball Sr. and her son, Edward (Eddie) Bernard Ball, Jr. She is survived by her sister, Paula (Bledsoe) Britt of Amarillo, Texas and her daughter and her husband, Susan Beth (Ball) and Kevin Porter of Little Rock, Arkansas. The joys of her life were her two grandsons, William Edward (Eddie) Porter and his wife, Erica Schoelkopf of Little Rock and James Michael Porter and his wife, Nora Janne, of Königstein, Germany. Every day until she was no longer able, she enjoyed videos and photos of her 1-year old great-grandson, Lukas James Porter, also of Königstein, Germany. Carol also leaves behind many beloved nieces, nephews, cousins and friends.
Music was a large part of Carol's life. Growing up, she and her sisters would join in 3-part harmony around the piano as her mother played. Singing in church was modeled for her by their father and her sisters, as was writing and poetry. Carol was known for the programs, poetry, and skits she would create for clinic, social, and church events in which she was a willing participant. She was remembered at the Health Department for her gifts as a nurse and administrator but also for the songs she used to teach and entertain students in prenatal and health classes. "I Should Have Danced All Night," was a favorite Health Department family planning song which brought laughter and smiles during her early career and then years later to Emergency Room nurses in Little Rock. Redbirds were also one of Carol's favorite demonstrations of God's presence and peace during times of grief or stress. She was assisted in writing a book, just for friends entitled, "The Redbird Story," in 2018 describing her experiences with Redbirds after Eddie Ball's passing. When asked how she wanted to be remembered, she responded, "I want to be remembered as having blessed people." That's exactly the legacy she leaves with all of us who loved her and with each person whose life path she shared.
There will be a Private Graveside Service at Mt. Carmel Cemetery in Eudora, Ark. Memorials may be made to Eudora Baptist Church, P.O. Box 39, Eudora, Ark. 71640. Arrangements made by Griffin-Culpepper Funeral Service. Online guest book may be signed at www.griffinculpepper.com.
Published June 18, 2020
OBITUARY SUBMITTED BY:
Griffin Funeral Services
105 North 2nd Street, P.O. Box 319, McGehee, AR