Wayne Russell
Little Rock, AR, 1925 - 2020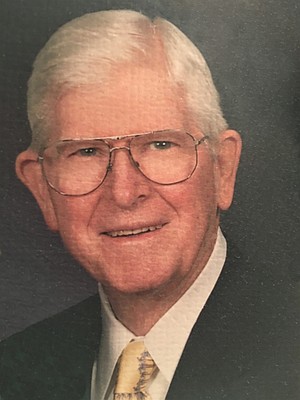 WAYNE RUSSELL, 95, of Little Rock, passed away on Thursday, November 5, 2020. Born May 30, 1925, in Brownsville, Tenn., to William Lancelot Russell and Addie Sue Powell Russell, he graduated from Messick High School in Memphis, Tenn., and the University of Memphis.
After successful career in the poultry industry, he retired as Vice President and General Manager of Corn Belt Hatcheries, a division of the Kroger Company. Wayne served as President of the Arkansas Poultry Federation and was honored as APF Man of the Year in 1972. He also served on the Arkansas Egg Council.
Wayne served in the Army Corp of Engineers on the European front during WWII. In 1946, following his discharge from the Army, Wayne married his high school sweetheart. Wayne moved his family to Hope, Ark., and there he and Ruby raised their four children. Wayne was a devout Christian and active member of First United Methodist Church in Hope. After moving to Little Rock, he became an active member at Highland Valley UMC.
Wayne is survived by his wife of 74 years, Ruby Phillips Russell; four children, Lynn Teague (Bill) of Nacogdoches, Texas; Mike (Melissa) of Jonesboro, Ark.; Phil (Melinda) of Germantown, Tenn.; and Steven (Tina) of Little Rock. Also surviving are six grandchildren; Blake Breshears (Stacy), Lynsey Russell, Meghan Russell, Maggie Russell, Whitney Hollingsworth (Joey), and Drew Russell (Julie); three great-grandchildren; and his brother, Thomas I. Russell of Inglewood, Colo. He was preceded in death by his parents; his four brothers William L. Russell, Jr., Roland P. Russell, Joseph H. Russell, Henry Russell; and his sister Mary Sue Russell Moore.
A memorial service will be at 11 a.m., on Saturday, November 28, 2020, in the chapel at Roller-Chenal Funeral Home, 13801 Chenal Parkway, Little Rock, Ark., (501-224-8300). Private burial will be at Pinecrest Memorial Park, Alexander, Ark.
In lieu of flowers, memorials may be made to Highland Valley UMC, 15524 Chenal Parkway, Little Rock, Ark., 72211.
To sign the online guest book, please visit www.rollerfuneralhomes.com/chenal.
Published November 22, 2020
OBITUARY SUBMITTED BY:
Roller-Chenal Funeral Home
13801 Chenal Parkway, Little Rock
Phone: 501-224-8300
http://www.rollerfuneralhomes.com/chenal