Charles Edward Jackson
Morrilton, AR, 1941 - 2020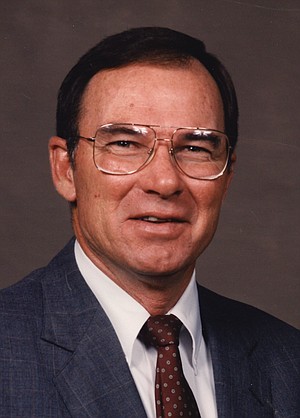 Charles Edward Jackson, age 79, of Morrilton, died Thursday, November 26, 2020. He was born March 24, 1941, in Monticello, Ark., to the late Carmen E. Jackson and Leola Reese Jackson. He was a graduate of Morrilton High School and a proud Devil Dog. He was a 1963 graduate of Ouachita Baptist University where he majored in business administration, was a member and captain of the football team, and was named All-AIC honorable mention in 1962.
After college he served six years with the Army Arkansas National Guard. He was employed by JC Penny, Arkla Gas and started his own business building and servicing self-service car washes all over the state of Arkansas.
He was a former Monticello Jaycee, president of the Little Rock Arch Street Baseball Association, and was founding member of the Arch Street Volunteer Fire Department. After moving to Morrilton, he joined the Rotary Club and was president of the Booster Club at Sacred Heart School. For many years he worked in the Morrilton High School Devil Dog Football Pressbox keeping the clock. He also worked extensively on the downtown Morrilton Sidewalk Renovation Project, earning him Citizen of the Year in 2000. He was a member and elder of the Morrilton First Presbyterian Church where he worked tirelessly on the building and grounds.
He was an avid bass fisherman, having fished in Cuba, Mexico, and all over the United States. He enjoyed many years floating the Buffalo River with his friends. He was a carpenter and truly a "jack of all trades." He built and donated many bluebird houses. He and his wife enjoyed traveling most of the United States. He was married 58 years to his high school sweetheart, Valery Willis.
He is survived by his wife; two sons, Jay Carter Jackson and Jeffrey Reese Jackson (Katie); granddaughters, Tori and Brooklyn Jackson, all of Morrilton; a sister Kathy Jackson Gattin of Virginia; and beloved nephews, nieces and friends.
He was preceded in death by his parents; two brothers, Clarence and Tommy Jackson; and his beloved dogs, Root and Rocky.
Memorial graveside service will be 3 p.m. Saturday, December 5, 2020 at Elmwood Cemetery with Dr. Bill Branch officiating. Due to COVID-19 Restrictions, face masks are requested by the family at the cemetery. Memorials may be made to the First Presbyterian Church, 105 West Church Street, Morrilton, Ark. 72110. Arrangements are by Harris Funeral Home of Morrilton. Online guestbook: www.harrisfuneralhomes.net.
Published November 29, 2020
OBITUARY SUBMITTED BY:
Harris Funeral Home, Inc.
118 South Moose Street, P.O. Box 439, Morrilton, AR
Phone: 501-354-4575
http://www.harrisfuneralhomes.net/