Dr. Chloe Elizabeth Vaught
Greenbrier, AR, 1996 - 2020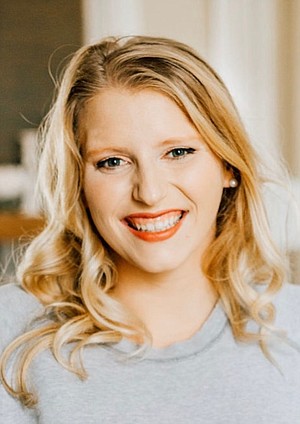 Dr. Chloe Elizabeth Vaught, age 24, from Morrilton, Arkansas went to heaven with her Lord on September 29, 2020. Dr Vaught was the 2014 Valedictorian of Morrilton High School. As a Morrilton High Devil Dog, she was volleyball co-captain, awarded 2013 All Conference and All State. Chloe represented MHS as a Junior Class Maiden and Senior Honor Maid on the Homecoming Court. Chloe was part of the Lady Devil Dog Volleyball and Softball teams, as well as a cheerleader and taking part in the Science Club, Math Club, Lions Club, Rotary Club and Beta Club. She was a Student Council Representative and a part of Skills USA. As a member of the Devil Dog softball team, Chloe was All Conference Honorable Mention her junior year and All Conference her senior year.
Upon completion of MHS, Chloe received the Arkansas State Scholar and Honors College Scholarship, the Mrs. Barbara Netherton Female Athlete Scholarship, the Rita Hill Fougerousse Memorial Scholarship, and the Harold Nichols Memorial Scholarship for a Devil Dog Female Athlete. Chloe also received a Vocational Completer in Medical Professions.
Chloe furthered her education at Arkansas State University in Jonesboro, AR, where in the Spring of 2018, she received a Bachelor of Science in Biological Sciences with an emphasis in Pre-Professional Studies as well as a Bachelor of Arts in Chemistry. While attending ASU, she received numerous awards and recognitions as well as being on the Dean's List. Chloe was often found behind the plate playing catcher for the Red Wolves Softball Team where she was named to the NCSA 1st Team All-American catcher. In 2017, her team won the World Series and was declared the NCSA National Champions.
If you knew Chloe, you loved Chloe. She loved her family, her friends, the beach, sports, and just having fun! She had a heart as big as her personality and a smile that lit up a room. Chloe never met a stranger and made everyone feel like a friend. Her heart shone bright in the several years she worked at Camp Aldersgate with individuals with special needs, helping them to expand their worlds and express their voices. Chloe had the gift of helping others to feel better and that led to her lifetime goal of being Doctor Chloe Vaught.
Chloe is survived by her father, Chris Vaught (Tonya) and her mother, Janel Tilley (Myron), her siblings: Darren Blackwood (Linley), J.B. "Justin" Blackwood (Ashley), Wesley Barrett/Vaught, Sophia Tilley, Jordan Andrews, and Joseph Tilley. Grandparents, Pat Hart, Roy and Dorothy Tilley, Roy and Sue Vaught, and James D Holmes, as well as nieces and a nephew. Chloe is also survived by a host of aunts, uncles, cousins, and friends. She was proceeded in death by her grandfather, Paul "Tuffy" Hart.
Her family and friends find hope in the fact Chloe knew Jesus as her personal Lord and Savior and will celebrate her life and her home going Sunday, October 4, 2020 at Antioch Baptist Church in Conway, AR. Visitation will begin at 1:30 pm with the service following at 3 pm. Chloe will be laid to rest at Elmwood Cemetery in Morrilton, AR. In lieu of flowers and green plants please give toward the Dr. Chloe Vaught memorial fund. Donations will be used for scholarships in Chloe's honor and to stop domestic violence. An account has been set up at Bank OZK under Myron and Janel Tilley- Dr. Chloe Vaught Memorial Fund. Donations can be made at any location.
Published October 3, 2020