Mary Ann Atkins Schreit
Paragould, AR, 1927 - 2020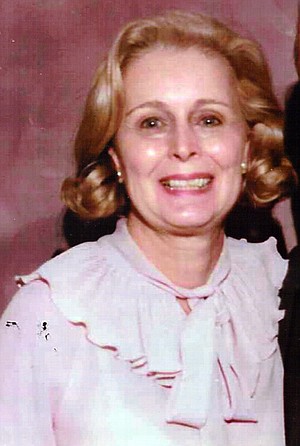 Mary Ann Atkins Schreit, 93, of Paragould, passed away peacefully on August 29th at the Flo and Phil Jones Hospice House in Jonesboro, Ark. She was born June 4th, 1927, in Piggott, Ark., to the late Olin McCord (O.M.) & Ethel Eva Myrick Atkins. The Atkins Family moved to Paragould in 1936 to own and operate the S. L. Joseph Stores. Later co founding Van-Atkins department stores. The Atkins family built and lived in a two-story brick home at 210 South 7th Street in Paragould until 1982.
Mary Ann graduated from Paragould High School in 1945 where she served as student body president and was a proud member of a high school friend group who called themselves "The Holy Ten" This group kept in touch and reunited for a good 50 years.
With parents who were very education minded and devout Methodists, Mary Ann attended and graduated from Duke University in 1949. Something that was quite unheard of in Paragould, Ark. in the 40s. At Duke, she was a member of Pi Beta Phi sorority and chosen The Chanticleer Yearbook beauty queen. During her college years she also modeled for Mademoiselle Magazine and was chosen as the cover girl for a national publication of Collier's Magazine in April, 1948. Upon graduating from Duke University, Mary Ann went to New York City, hoping to go to work for the United Nations and put her political science degree to practical use. But the only openings it had were in the typing pool. She then tried Time Magazine, with no luck and wound up at the National Citizens Commission for Public Schools, funded by the Rockefeller Carnegie Foundation. For a year, she served as the vice chairman's assistant and wrote letters. Many famous people, including Eleanor Roosevelt, stopped by the commission to visit. Foreign adventure then beckoned, so Mary Ann saved her money and with about 15 others, boarded the Queen Mary for a six-nation European tour that included a public audience with Pope Pius XII. Travel and living in the city were two of her many dreams she was able to accomplish early on in life.
On a visit back to Arkansas from the city life, Mary Ann met Frank Joseph Schreit, Jr., who was an accountant with L.A. Lipscomb, later opening his own CPA firm, in Paragould. Knowing that her lifelong dream was to settle down and raise a family of her own, Mary Ann returned to Arkansas where she and Frank married in July 1951.
Mary Ann played the piano since she was 5 years old. She inherited her mother's musical pitch. Frank was her best listener. Her grandchildren were her best dancers to "Raindrops Keep Falling on my Head" and other jolly songs played on her grand piano, that was once her mother's.
Mary Ann has always taken great pride in her hometown of Paragould. She was an active member of the City Beautification Committee and worked tirelessly to help preserve the downtown's rich heritage and maintain an economic force in the community. She and Frank spent countless hours decorating outdoor trees for Christmas in the downtown area at one time. She was a huge supporter of keeping the local hospital, Arkansas Methodist Medical Center, up and running for area residents to have local medical care. She did not want Paragould to "fall off the map" always looking for ways to improve and preserve what Paragould had to offer.
One of her biggest accomplishments is the preservation and restoration of the Greene County Historical Courthouse in downtown Paragould. It began in 1992 when she learned of the possible demolition of the county courthouse built in 1888. Her intervention came "at the last minute of the last hour of the last month of the year!" She gathered a group of like-minded citizens and they formed the Greene County Courthouse Preservation Society. Her tenacity, along with the determination of others saved the courthouse from possible destruction and preserved the history, lore, and mystique of the century-old building for future generations. To this very day, the Greene County Historical Courthouse is a beautiful landmark in downtown Paragould and serves the purpose that Mary Ann and others set out to accomplish: keeping the past alive for the future!
Mary Ann has been a member of First United Methodist Church Paragould since 1937. The beauty of the historic sanctuary along with the pipe organ and piano music made for a perfect worship setting in her eyes. She especially enjoyed the church choir cantatas. As a board member on the Paragould Centennial Celebration Commission from 1982-1984, she was co-chairman of the Centennial Cook Book Committee in 1983 that compiled a keepsake cookbook of recipes by local residents. The cookbook also contains many historical landmarks and information pertaining to Greene County. Proceeds from the sale of the cookbook were used for the renovation and maintenance of Harmon Field. Mary Ann loved visiting the Gulf Coast where she coordinated and hosted many large family gatherings at their beach home over the years. One of her favorite traditions was the presentation of the grandchildren's colorful t-shirts each year with their names on the back. She was also known for her large family Christmas gatherings at her home, Greystone, on Pruetts Chapel Road and similar Easter gatherings. While she loved to travel she was quoted in The Daily Press as saying "I've seen a lot of the world and it's exotic and fascinating sights. But the coming of maturity has tempered any infatuation for things foreign and distant. I have come to see the happiness in what is near."
Mary Ann went by many names including Mary Child, Baby and finally Nana. Perhaps her greatest joy and accomplishment was being married to Frank Joseph Schreit, Jr., for 61 years and having the big family she always desired. Her surviving children and families are Eva (Robert) Blackshear of Springfield, Mo.; Sara (Will) Morgan of Conway; F. Joe (Jennifer) Schreit, III, of Paragould, and Anna (Skip) Smith of Jonesboro. Surviving grandchildren include Ross, Ted and Steven Blackshear of Springfield, Mo., Joe (Sarah) Morgan of Little Rock, Christal (James) Cicero, Kate (Derek) Abrams, and Rebecca (Evan) Pence of Conway, Joanna (Yong) Ko, Maggie, Lena and Eli Schreit of Paragould, Kathryn (Connor) McClurkan, Sarah and Mary Beth Smith of Jonesboro; great-grandchildren Silas, Dylan and Annie Beth Cicero, Hannah, Luke and Jack Abrams, Easton and Addison Pence, all of Conway, Kai and Grey Morgan of Little Rock, and Charlotte Ann Ko of Paragould. She is also survived by her brother, Robert Atkins (Pat) of Portland, Ore.; and several nieces and nephews.
She was preceded in death by her husband, Frank Joseph Schreit, Jr.; her parents, her sister, Sara Atkins Moseley and husband, Guy; sisters and brothers-in-law, Jane and John McKenzie, Patsy and Joe Tannehill; and niece, Ainsley Atkins.
Although Alzheimer's came into her life in 2008, it never robbed her of her sweet smile and beauty she carried throughout her life. She continued to enjoy the touch of a warm hand, the sound of familiar voices and music. She would tell you, "It's life itself." She and Frank had a special saying for each other, "I'll see you on the river…some sunny day." Once again for them, it's a "sunny day."
For lasting memorials please consider First United Methodist Church Paragould, Lay Pastoral Fund, 404 West Main Street, Paragould, Ark. 72450 or Paragould Chamber of Commerce, Courthouse Preservation Fund, P. O. Box 124, Paragould, Ark. 72451. A private family memorial service was held.
Published September 1, 2020