Betty Hennelly
Little Rock, AR, 1931 - 2021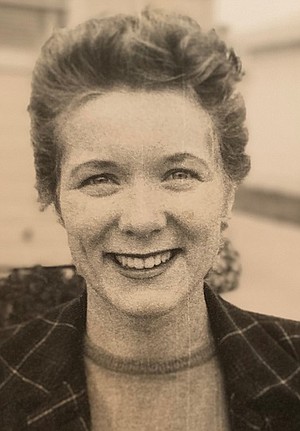 Betty (Johnson) Hennelly, 89, of Little Rock died of complications of the coronavirus January 31, 2021, at Baptist Medical Center, Little Rock. For almost 90 years, Betty lived a life of happiness, love, resilience and beauty. Fittingly, when she wrote her memoirs, the title she chose was "Memoirs of a Happy Life." She was born on August 25, 1931 on Long Island, New York. She was the daughter of Els and Vera Johnson who were emigrants from Canada and she grew up in a close-knit family with her sisters Ginny, Dotty, Lois, Pat and her cousin Margaret. She began a lifelong love of singing as a child and remembered that she would sing while climbing trees in her backyard or while walking to school. She sang professionally on radio and television in the New York City area while in her teens and, most importantly, she spent most of her life singing in church. Countless masses, weddings and funerals, especially at Christ the King Catholic Church in Little Rock, were spiritually enriched by her singing.
During the Korean War, she met and married the love of her life, a young Marine by the name of Jack Hennelly. They were together for 44 years until Jack's death in 1995. Together, they had 20 years of military life during which they began a family that grew to five sons and two daughters: Michael Hennelly (wife Maureen) of Rogers, Ark., John Hennelly of Springdale, Ark., Patrick Hennelly (wife Jill) of Nellysford, Va., Timothy Hennelly (wife Terri Jo) of Roland, Ark., Eileen Hennelly Homire (husband Dale) of Alpharetta, Ga., Thomas Hennelly (wife Carmen) of Fayetteville, Ark., and Nan Hennelly Rindahl (husband Marty) of Little Rock, Ark., all of whom survive her. Betty eventually became a grandmother and great-grandmother to 16 grandchildren and 13 great-grandchildren. They all loved her dearly and cherished the time they spent with her. No family social event was ever complete without "Amma" being present.
After their military life, Jack and Betty moved to Little Rock as Jack had been hired by Father Tribou to teach at Catholic High School. To her surprise, this turned out to be a career move for Betty as well and she spent more than a decade teaching at Catholic High. She will always be remembered for her ability to get unruly high school boys to become enthusiastic about putting on plays and musicals.
Betty had a full and meaningful life. Over the years, she gave her love of music to hundreds of children as a piano teacher and choir director. When Jack retired, the two of them spent years in their RV, visiting national parks all over the country. She hosted prayer group meetings in her home for decades. She developed herself as an artist, first as a singer and later in life as a painter. She was a quietly ferocious Scrabble player and enjoyed any movie that was black and white.
During her life, Betty always responded to challenges and adversity with grace and resilience. Whether it was the untimely death of sisters, the shockingly unexpected death of her beloved husband or health challenges in later years, when asked how she was coping, she inevitably responded with a smile and a stalwart "I'm fine, dear."
Although her family mourns her passing, we are happy in the knowledge that she is together again with Jack roaming Heaven in their RV.
A rosary will be held at 9 a.m. Thursday, February 4, 2021, followed by a funeral mass at 10 a.m. at Christ the King Catholic Church. Memorials may be made to: Carmelite Nuns, 7201 W. 32nd Street, Little Rock, Ark. or to Catholic High School for Boys, 6300 Father Tribou Street, Little Rock, Ark.
Arrangements by Smith Little Rock Funeral Home, 8801 Knoedl Court, Little Rock, Ark. (501) 224-2200. Betty's online guestbook may be signed at www.smithfamilycares.com.
Published February 2, 2021
OBITUARY SUBMITTED BY:
Smith Little Rock Funeral Home
8801 Knoedl Ct., Little Rock, AR
E-mail: littlerock@smithfamilycares.com
Phone: 501-224-2200