James Michael Mallett
Farmington, AR, 1956 - 2021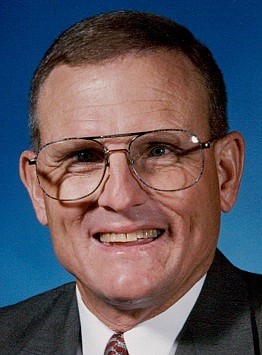 James Michael Mallett, age 64, a resident of Farmington, Ark., passed away Sunday, July 25, 2021. in Farmington, Ark. He was born September 11, 1956, in Wynne, Ark., the son of Morse and Lula (West) Mallett.
Jim Mallett was the type of coach every parent would choose their athlete to have. He was tough, but loved his athletes and encouraged them to be their best on and off the field. He taught them and his children to be leaders not followers.
Being a devoted family man, Jim was happiest when he was surrounded by his children, grandchildren, and all of his nieces and nephews.
Jim's boisterous, loud laugh was one you don't forget. His sense of humor and the many pranks he played will live on in the memories of many with whom he coached and taught.
He was preceded in death by his parents; one brother, Danny Mallett; his father-in-law, Malcom Burnette; and one brother-in-law, David Burnette.
Survivors include his wife, Debbie Mallett; one son, Ryan Mallett of Mountain Home, Ark.; one daughter, Lauren Mallett-Hays and her husband, Justin, of Farmington, Ark.; two brothers, Trent Mallett and his wife, Kay, of Conway, Ark., and Mark Mallett and his wife, Jean, of Rogers, Ark.; one sister, Jeannine Jolly and her husband, Ronnie, of Bald Knob, Ark.; one sister-in-law, Teresa Mallett of Carlisle, Ark.; his mother-in-law, Gail Burnette of Farmington, Ark.; three grandchildren Hadley, Harper, and Davis Hays; numerous nieces, nephews, and countless student athletes that he helped form into outstanding citizens.
The family will receive friends from 12-1 p.m. prior to the funeral at Summers Missionary Baptist Church.
Funeral service will be held 1 p.m. Friday, July 30th, 2021, at Summers Missionary Baptist Church in Summers, Ark. Graveside service will be in Mallettown Cemetery near Springfield, Ark.
Pallbearers will be Terry Murphy, Ron Holley, Scott Mennie, Kevin Hamilton, David Hardy, and Jim LeGrand.
Honorary pallbearers will be Dax Moreton, Courtney Mallett, Beau Mallett, Blane Mallett, Kyle Mallett, and Will Jolly. Online guestbook, www.luginbuel.com.
Published July 28, 2021
OBITUARY SUBMITTED BY:
Luginbuel Funeral Home
115 N Neal, Prairie Grove, AR
Phone: 479-846-2141