Andre Derdeyn
Lovingston, VA, 1937 - 2021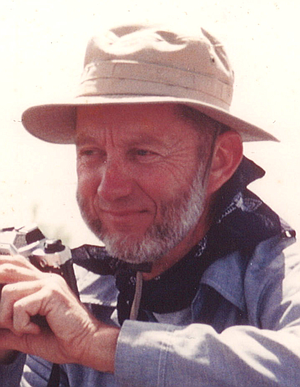 Chasing the last, soft light of the day, Dr. Andre Derdeyn died unexpectedly on Monday, November 15, 2021, while taking photographs in Lovingston, Va. This desire to find the ideal light was not limited to photography: Andre spent a lifetime constructing "a clean, well-lighted place." His friends and family are grateful that Andre understood that he had succeeded. On his 80th birthday celebration, Andre reported that his life had been so much more interesting, rewarding, and loving than he had ever expected. That evening, while musing over the components of a good life, Andre offered three: someone to love, something to do, and the wisdom of knowing "when to hold them and when to fold them."
Over his lifetime, Andre loved many people. Profoundest of all was his love for his wife of 60 years, Marie-José. She became his most photographed subject and that lifetime of photographs manifests his love for "the pilgrim soul in her, and the sorrows of her changing face." Other loved and often photographed subjects were his five favorite children and their spouses: Colin and Sue Derdeyn; Sylvie and John Robinson; Catherine and Ashford Little; Matthew and Katie Derdeyn; and Michael and Molly Derdeyn, and his fifteen special grandchildren: Will, Pieter, Colin, and Margaret Derdeyn; Madeleine and Jack Robinson; Nathan, Davis, and Amalie Little; Clay, Charlotte, and Abigail Derdeyn; and Ned, Lia, and Marguerite Derdeyn. Andre also loved his deceased mother, Madeleine Joseph-Derdeyn, his deceased father, Cliff Joseph, his brother, Conrad Derdeyn, his nephews, Stuart and Clifford (Jeanie) Derdeyn, and many cousins, in particular Bruce (Cindy) Joseph, and many friends.
Born on July 17, 1937, in Chicago, Illinois, Andre attended grade school in Austin, Texas, graduated from St. Stephen's Episcopal Boarding School as a scholarship student, and then from Cornell University also as a scholarship student. He spent his summers helping with his father's family farm in Oklahoma, working construction at St. Stephen's, and logging at a small Vermont farm.
To his mother's great relief that her hard work was not in vain, Andre graduated from the University of Texas Southwestern Medical School. He started residency training in Internal Medicine at Stanford University, and then was drafted by the Army. He served as a captain in the Army as a general medical officer and then as the psychiatrist for the 2nd Armored Division in Fort Hood, Texas, during the Vietnam War. After a residency at Duke University in adult psychiatry followed by a fellowship in child psychiatry, Andre joined the University of Virginia School of Medicine.
While at UVA, Andre rose through the academic ranks to become a Professor of Psychiatry. He served as the Director of Child and Family Psychiatry at UVA for over 20 years. During this time, he had an active practice providing psychiatric care and counseling for children, adolescents, and their families. Andre published extensively on the impact of divorce, foster care, adoption, and forensic psychiatry and built strong collaborations with friends and colleagues at the School of Law for these domains. For the last decade of his professional career, Andre served as the Director of Child and Adolescent Psychiatry at the University of Arkansas for Medical Sciences, where he was the WOHDAN Professor of Psychiatry, and the Psychiatrist-in-Chief for Arkansas Childrens Hospital. Andre retired from UAMS in 2002. Throughout his career, he deeply appreciated his clinical practice and patients as well as the many residents and fellows that he trained. Patients and students may recall one of Andre's frequently used maxims: "we are all critters." Andre served on the American Board of Psychiatry for many years.
After marrying Marie-José in 1961, Andre and Marie-José proceeded to have five children over the next seven years. Indeed, Andre claims that his fascination with his children led him to child psychiatry. Sources familiar with that period in Andre's life question that characterization, as they suspect "desperation" might be a more accurate description of his state of mind. As his children grew, Andre introduced the family to the outdoor activities that he loved: exploring mountains, valleys, rivers, caves, and canyons both on foot and by canoe. He developed a wide circle of friends who joined him on white water canoeing adventures across the United States and Canada. Photographs documenting these outings ensure that the memories will never fade. Later, Andre was pleased to realize that his children's excessive TV watching did not impede their timely arrival into a competent form of adulthood. He often remarked with relief that "his children had managed to get their lives together in workable fashion."
Retirement in Nelson County, Va., provided more for Andre to do. In this hilly and wooded corner of the world, he transformed a landscape and built a farm. He created and maintained greener pastures and healthier forests by battling invasive species, planting thousands of trees, and placing the property under a conservation easement. At the farm, Andre developed and nurtured relationships with his grandchildren – creating a special connection with each one. He was equally proud of each of his favorite grandchildren. Professionally, Andre continued his forensic psychiatry practice and consulted at Little Keswick School, Keswick, Va., for several years. Together, Andre and Marie-José engaged in outdoor activities and enjoyed extensive travel.
Andre has often noted the significance of knowing when to hold them and when to fold them. Realizing that Andre's fight against the "dying of the light" is now over, his friends and family take comfort from the conviction that he would counsel us that it is time to fold. While his death was unexpected, we are finding peace in our memories of him and his love for us.
In accordance with Andre's wishes, the family will hold a private celebration of his life at a later date. Memorial donations may be made to the Nelson County Community Fund, P.O. Box 253, Nellysford, Va., 22958, or to the Southern Environmental Law Center, 201 West Main Street, Suite 14, Charlottesville, Va., 22902-5065, or to a charity of your choice. Arrangements by Wells/Sheffield Funeral Chapel, Lovingston, Va., 434-263-4097.
Published November 25, 2021