Larry McAdams
of Little Rock, AR, 1939 - 2021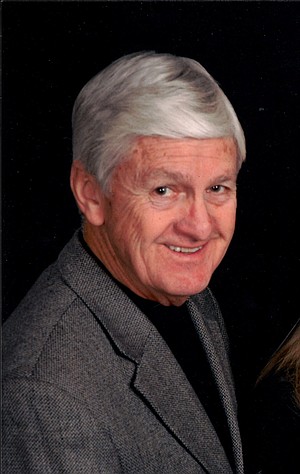 LARRY MCADAMS grew up at in a small town in the bootheel of Missouri at a time when people left their doors unlocked and children roamed the streets playing until dark. In Hayti, Missouri, his family ran a grocery store and his uncle managed three cinemas. Larry was more enchanted with the movies than he was with stocking shelves, and by the age of 14 he could be found running the projectors at the Joy Theater boosted up by an old coke box so he could reach the controls. Larry continued working for his uncle while he was in high school, but he still found time to play football as the running back for the Hayti Indians, to participate in the school band playing the trumpet, and to perform as the male lead in Annie Get Your Gun. His diverse interests continued into college and throughout his life.
By 1957 Larry was behind the mic for KCRV in Caruthersville, Mo., as a Rock n' Roll deejay. It was here that his broadcast career began. Moving to Arkansas as a freshman at Arkansas State University, Larry enrolled as a speech and theater major. Before graduating, Larry moved to Little Rock in the early 60s as a deejay for KXLR. Returning to Jonesboro to continue his education he worked for KBTM radio and in July 1963, Larry was part of the inaugural staff and one of the first to be hired as an on-air talent at KAIT-TV. In the late 60s Larry was in Little Rock at KATV presenting the news, weather, and sports sharing airtime with Bud Campbell, Cal Dring, Dale Nicholson, BJ Sams and Gary Weir. Larry transitioned from broadcasting to sales at KATV, and by 1978, he moved into sales at KARK and advanced to National Sales Manager before retiring in 1997.
Larry was active in the Little Rock Community serving as a board member for LifeQuest of Arkansas and Commissioner of the Riverdale Harbour District. He was a member of Saint James United Methodist Church and was actively involved with the New Challenges Sunday School class. In his neighborhood Canal Pointe, Larry served as president of the property association and in the early years was given the title of mayor.
Larry's passions were many, but none more treasured than the time he spent with his family. He brought three daughters into the world whom he loved with his whole heart. Not only was he an exceptional father, but "Pops" was just as sensational as a grandfather. He was happiest when he was with his grandchildren celebrating birthdays and attending dance recitals, talent shows, and movie screenings. Whether it was riding the train at 12 with his friend Gene to Saint Louis to see the Cardinals play or commandeering his boat on the Arkansas River, Larry's passions for never waned. For his entire adult life, he continued his interest in trains and would set up his massive train set around the tree every Christmas. He was watching his beloved Cardinals play the weekend before he passed. Seaclusion was the last boat he captained on the Arkansas River. Larry loved to travel and spent many summers with his wife Carol Ann, chaperoning groups all over Europe and joining theatre friends in New York to see the latest Broadway shows. He never lost his passion for a bucket of popcorn and a good movie.
Born July 4, 1939, to O.E. "Cobb" and Mary Jane McAdams in Kennett, Mo., Larry always felt that the Fourth of July fireworks and picnics were part of his birthday celebration. Pancreatic cancer took him from this world September 14, 2021. He was preceded in death by his parents and his daughter Terri Anne McAdams. He is survived by his wife of 34 years, Carol Ann Conner McAdams; daughters Karen (Brad) Hopper of Allen, Texas, and Pamela (Mike) McKinnis of Little Rock; grandchildren Terri Anne Howard, Gray Thurman, Damon McKinnis, and Elena McKinnis. He is also survived by in-laws Nancy (John) Davis, Bo (Melanie) Conner, and Bill Conner, plus a niece Danielle (Cody) Burnell, nephews Jeremy (Amy) Baker, Clint (Beka) Conner, Craig (Erin) Conner and their children, and cousins Ann (Charlie) Barcus, John (Linda) Henley, John (Janet) McAdams, Betty Weaver and Lee (Judy) Cole. All his friends remember Larry as the life of the party, always ready for an adventure and the most positive of men. A special thank you to Dr. C.D. Williams for giving Larry's family and friends another 24 years of quality life with him. He will be missed by many.
A celebration of Larry's life will be held Wednesday, September 22 at 11a.m., at Saint James United Methodist Church, 321 Pleasant Valley Drive, Little Rock, with a reception following in the Welcome Center. Masks are required. In lieu of flowers, the family requests contributions to New Challenges Sunday School Class at Saint James United Methodist Church, 321 Pleasant Valley Drive, Little Rock, 72212.
Online guestbook: www.rollerfuneralhomes.com/chenal.
Published September 19, 2021
OBITUARY SUBMITTED BY:
Roller-Chenal Funeral Home
13801 Chenal Parkway, Little Rock, AR
Phone: 501-224-8300
http://www.rollerfuneralhomes.com/chenal