James R. Ford
Russellville, AR, 1937 - 2021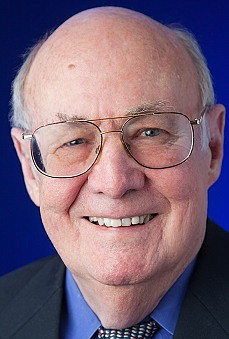 James R. Ford, a Russellville native who spent a lifetime building businesses and a family that in concert helped shape his hometown, died at home of natural causes Tuesday, the morning after his 84th birthday.
Born on September 20, 1937, to James A. and Lorene Ford, James Robert was the oldest of five children. Early on he displayed the characteristics that would lead him to unprecedented success in River Valley real estate. From the age of 12, when he drove a grocery store delivery truck and worked in his father's business, he always had at least one job. He also knew how to have fun. An accomplished dancer and captain of the Russellville High School band, he played the trumpet well enough that he attended Arkansas Tech on a music scholarship before pursuing an education in business.
On a date with another girl his sophomore year at Tech, he met a freshman from Mount Ida, named Jocelyn Standridge. He was immediately and irrevocably smitten. After their first official date, he woke up his parents to tell them, "I just went out with the girl I'm going to marry." Six months later, on September 7, 1958, he made good on his word.
Before graduating from Tech in 1960, and between stints in the National Guard, he worked several jobs until reluctantly taking on an insurance business. He quickly grew it into the first of several success stories. In 1964, upon deciding that real estate agents were better compensated for homes he wrote the policies for, he added another title to his resume.
From a one-person operation in the Vance Abstract Company downtown, he built James R. Ford and Associates into one of the area's largest and longest-serving real estate companies, with 14 licensed agents at its peak and satellite operations as far flung as Fayetteville. He moved his central office first to a complex built by his company on South Arkansas Avenue, then to the 500 Building on West Main, where he went to work most days until a few weeks before his death.
Over the course of six decades in the business, his real estate projects broadened the scope of his hometown. Among the subdivisions he created were Western Hills, Camelot, Pleasant Hills, and Canterbury Heights. Heritage Square, a sophisticated retail center on West Main, was one of his signature creations, and he was a partner in the development of Sportsworld, a local bowling alley and skating rink. "We've done a lot of things with the company and had a lot of fun," he once told a reporter after selling his company in the early 2000s. "If it wasn't an 'everybody wins' situation, we didn't do it. That was our attitude. Because in a town the size of Russellville, you don't make too many mistakes and stay in business. You just don't."
Besides a long list of commercial contributions, he was a tireless and devoted civic promoter. He not only never left his hometown, he never dreamed of it. He served as president of the local chapter of Rotary International as well as the Russellville Country Club, marshaling one of the most significant renovations in the history of the 18-hole course. His family helped found Wesley Methodist, where he sang bass in the choir, and he championed dozens of civic projects, including the widening of West Main. He was just as deft with small touches as sweeping ones. At Christmas he could be found ringing a bell for the Salvation Army. His renters would testify to his occasional forbearance in a crisis.
Before discovering golf in his 50s, he operated his own woodworking shop, filling orders from family and friends for everything from dollhouses to armoires to clocks. All seven of his grandchildren as well as his great-granddaughter slept in his homemade cradles.
His family fondly recalls his passion for camping, boating and annual trips to Six Flags, Disney World or Disneyland. He liked nothing better than firing up his 23-foot motor home for treks to Razorback football games, Mount Ida or Branson, Mo. Trading his RV for a Jaguar remained one of his biggest regrets. Ever since spending a portion of his youth on a farm, he enjoyed the company of animals. His beloved home on Marina Road was a haven for them. The seven acres routinely echoed with sounds of chickens, geese, goats, pigeons, ponies, miniature donkeys and, in particular, his Great Pyrenees, Buddy.
But, to his dying day, his wife and family remained his greatest loves. He couldn't have achieved a quarter of his success, he'd often say, without Jody, whom he called the best Realtor in the family. He also gave her full credit for raising their four children so well. He was happiest when they were all around him.
In addition to his parents, James was predeceased by his sister, Reba Ford Hodge.
He is survived by his brothers, all of Russellville: Jerry, and his wife, Donna, Gary, and his wife, Carol, and Terry, and his wife, Eva.
He is also survived by his wife of 63 years; their four children, Deborah Ford Sherrington, and her husband, Kevin, of Dallas, Texas, Valerie Ford Kellam, and her husband, Art, of Little Rock, Robert Ford, and his partner, Dennis Overman, of Russellville, and Brad Ford, and his partner, Kirk Hunter, of New York City, N. Y. He leaves seven grandchildren, Paige, Anna and Sydney Kellam, as well as Jake (and his wife, Emily), Madeleine, Ford and Olivia Sherrington; and a great-granddaughter, Harper Elizabeth Sherrington.
A service commemorating James' life will be held at 1 p.m., Friday, September 24, 2021, at First United Methodist Church, 304 South Commerce Ave., Russellville, 72801. Burial will be private in Oakland Cemetery and under the direction of Shinn Funeral Service of Russellville.
Memorials in James R. Ford's name can be made to Manna House of Russellville, 206 West 3rd Place, Russellville, 72801, or friendshipfoundation.com. The online obituary and guestbook are available at www.shinnfuneral.com.
Published September 23, 2021
OBITUARY SUBMITTED BY:
Shinn Funeral Service
800 West Main Street, P.O. Box 700, Russellville, AR
Phone: 479-968-1212
http://www.shinnfuneral.com