George Franklin Campbell
of Little Rock, AR, 1932 - 2022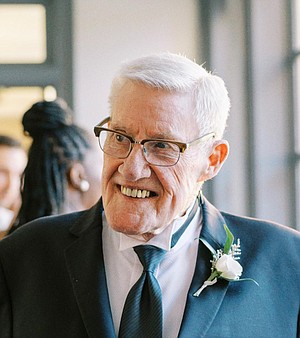 GEORGE FRANKLIN CAMPBELL, age 90, died December 15, 2022, at his home. He was predeceased by his parents, Harold Clark and Fern Lucille Kirby Campbell; his wife, Bess Hester Campbell; sisters, Edith Campbell Stehm and Dorothy Campbell Hutchins; brothers, Roy and Don Campbell; and his sister-in-law, Lois Campbell. He is survived by his son and daughter-in-law, Scott and Ann Campbell of Webster Groves, Mo., and their children Matthew, Christopher, Johnathan and Madeline; his daughter and son-in-law, Dr. Stacy and Dr. David Bright of Chapel Hill, N.C., and their children Mackenzie, Cassidy, and Savannah. He is also survived by many nieces and nephews.
A native of Joplin, Mo., Mr. Campbell was a graduate of Kansas State College, Pittsburg, Kan. He was a U.S. Navy Veteran. His devoted his entire business career to sales, with the last 25 years of his career spent as a Realtor in Little Rock.
Mr. Campbell was an active member of Pulaski Heights United Methodist Church, the Koinonia Dialogue Class and Men Alive and was a volunteer in the PHUMC Helping Hands Respite Care Program during its first 10 years of operations as well as in recent years. He was a charter member and a past president of the West Little Rock Optimists Club, a past board member of the Little Rock Razorback Club, a past deacon of Westover Hills Presbyterian Church in Little Rock, a past board member of Youth Home, Inc., and a past member of the Springfield, Mo., Jaycees. He was a founding volunteer at the Clinton Presidential Center in Little Rock and was recognized for being the top volunteer at the Center, in terms of hours given for a number of years. He was honored in 2012 for being the first Clinton Center Volunteer to give 10,000 hours of service to the Center. He recently retired as an active volunteer. He was a charter member of the MacArthur Park Group, individuals who worked toward revitalizing Little Rock's first city park.
Interment will be in the Columbarium Garden of Pulaski Heights United Methodist Church in a private family service. Celebration of Life service for George will be at PHUMC on Wednesday, December 21, 2022, at 11 a.m. Honorary pallbearers will be the Koinonia Dialogue Class and Men Alive group. In lieu of flowers, Mr. Campbell requested that memorials be made to the Pulaski Heights UMC Foundation for the George F. Campbell Caring Ministry Endowment, 4823 Woodlawn Drive, Little Rock, Ark., 72205. Arrangements are under the direction of RuebelFuneralHome.com.
Published December 18, 2022
OBITUARY SUBMITTED BY:
Ruebel Funeral Home
6313 West Markham Street, Little Rock, AR
Phone: 501-666-0123
http://www.ruebelfuneralhome.com