William D McKeever II
Van Buren, AR, 1961 - 2022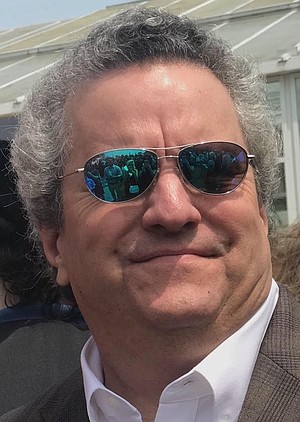 It is with great sadness that we mourn the passing of William McKeever on December 14, 2022. He was born in Fort Smith on August 1, 1961 to Barbara (Barber) Kell and William McKeever Sr. He was preceded in death by one nephew Evan McKeever. He was a graduate of Southside High School and the University of Central Arkansas. He worked in the computer and insurance industry before joining Consolidated Printing in Van Buren. William led Consolidated Printing successfully for over 35 years. He was an important contributor to the success of the business and employees. He was always a voice of wisdom and experience that was sought after and relied upon by many. He was a great leader and master communicator who left an indelible impression on everyone he came across. He lived by and encouraged others to follow truth and justice. Be a good person, citizen, understand your client's needs, fulfill your responsibilities promptly and ethically, have respect for the other side's position, respect your role in society. He was involved in the thoroughbred racing industry as an owner in Arkansas, Texas, Louisiana, Kentucky and California. He was very involved in thoroughbred after care programs in Kentucky. He supported many charities and foundations including United Way, 12th Man Scholarship Fund, Arkansas Children's Hospital, Joel Osteen Ministries, Razorback Foundation, University of Central Arkansas, Wounded Warrior, River Valley Food Bank, Kentucky Horse Park, Old Friends Equine, Crawford County Volunteers for Literacy and many others.
Memorial service will be at 10:00 A.M. Monday, December 19, 2022 at Ocker Memorial Chapel in Van Buren with burial of cremains at Newberry Cemetery in Alma under the direction of Ocker Funeral Home Van Buren.
He is survived by his wife Julie McKeever, his children, Jacqlyn McKeever, Paxton McKeever, Madeline Crawford and husband, Maxx all Tulsa, Nathan Taylor and Genie both of Van Buren, Emily Hurst and husband Joey of Alma; two grandsons Sonny and Leo Crawford of Tulsa; one sister Michelle Harp and husband, John of Fort Smith; one brother Matthew McKeever and wife Stephanie of Campbellton, Missouri; nephews David Smith of Fayetteville, Spencer Smith of Fort Smith and Matthew McKeever and wife Lacey of Seattle, Washington, Christan McKeever of Campbellton, Missouri along with many friends across the country.
Honorary pallbearers will be Mike Childers, Adam Lehe, Adam Feldman, David Minchew, Randy Hurban, Bill Hanna, Drew Linder, Mark Williams, Steven Hopper, Ken Buntain, Dick Teague and Curtis Howells.
Memorials may be sent to Old Friends Thoroughbred Retirement Farm, 1841 Paynes Depot Road, Georgetown, KY 40324
Online tributes: www.ockerfuneralhome.com
Published December 18, 2022