Benjamin Carroll Hyatt
Perryville, AR, 1926 - 2022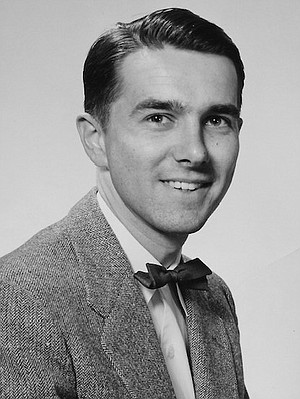 Benjamin Carroll Hyatt, Jr of Perryville, Ark., age 95, died on June 28, 2022, at Baptist Health Medical Center in Little Rock Arkansas.
Ben was born in Hope, Arkansas on December 26, 1926, to Benjamin Carroll Hyatt and Florence Spragins Hyatt. His parents made their home in Monticello, Ark., but when Ben was just five years old, his father fell ill and died, and the family moved to Hope to live with Florence's parents, C. C. and Elise Spragins. Despite the rough start, Ben, the eldest child, and his brothers and sister had an idyllic childhood in Hope. Throughout his life, he joyfully recounted stories about his childhood adventures. Ben was an excellent student and graduated as salutatorian from Hope High School in 1945. Having been drafted one month after his 18th birthday, Ben reported for basic training in Ft. Lewis, Wash., in June 1945. He served two years in the U.S. army as a clerk on the hospital ship, USS Hope. He traveled to the Philippines, Guam, Korea and Japan during his tenure in the army. Upon honorable discharge in 1947, Ben served in the U.S. Naval Reserve for five years.
Ben attended Arkansas College in Batesville, Ark., and Northwestern University in Evanston, Illinois, completing a bachelor's degree from Northwestern in 1953. In his senior year, Ben worked as an orderly at St. Francis Hospital in Evanston which influenced his decision to go to medical school. He graduated from the University of Arkansas for Medical Sciences in 1958, then completed a one-year internship at St. Vincent's Infirmary and later served as a house doctor at Beaumont City Hospital in Beaumont, Texas until June 1960.
In January 1960, Ben wed Sarah Elizabeth Helms, and shortly after, Ben made his first mistake of the new marriage when he took his bride to honeymoon in Chicago…in January! Sarah stopped complaining about that in September 2020. In June 1960, baby on the way, Ben and Sarah moved back to Arkansas, where Ben started his practice at the Perry County Community Health Clinic in July 1960. Originally planned as a short-term move, Ben remained at the Community Health Clinic for 44 years. He was an old-fashioned country doctor, treating his patients from birth 'til death. He delivered over 700 babies. The last one was on the day of his daughter's wedding, almost making him late for the ceremony. He fixed broken bones, stitched up many cuts and developed his own x-rays. He made house calls to remote areas of the county day and night. He was on staff at St. Anthony's Hospital in Morrilton until 2004. After retirement, he took on the job of medical director of the Perry County Nursing Center until 2012. He served as County Health officer for many years.
Ben was a member of the Young Business Men's Association and a charter member of the Perryville Lions Club, selling light bulbs and brooms door-to-door for their fundraisers. He was a 32nd degree Mason and received the Pillar of Solomon award in 2017. He loved delivering Meals on Wheels.
Ben was a member of the Perryville United Methodist Church for 62 years, serving on the Trustees Committee, Finance Committee and sang in the choir. He enjoyed the camaraderie of the Thursday morning men's coffee at the church and liked to instigate lively discussions to solve the problems of the world.
In 2000, he was honored for 40 years of service to the county with a tribute ceremony and the presentation of a rock installed on the grounds of the Perry County Courthouse. County Judge George McNeal proclaimed December 26-30, 2000 as Dr. Ben Hyatt appreciation week. In 2020, Ben was profiled in the book Country Doctors of Arkansas.
Ben was a self-taught stonemason, spending most of the past 60 years building retaining walls and an addition to the house. He became a cattle rancher in the 1970's. Around 2010 he started a muscadine vineyard, where he devoted many hours tending his vines.
Ben is survived by his three children, Carroll Hyatt (Dendy Collier) of Little Rock, Elizabeth Pollard (Alan) of Pine Bluff, and John Hyatt (Daphne) of Blue Bell, Pa., his four grandchildren (Claire Hyatt, David Pollard, Dean Hyatt and Lily Hyatt), and his two brothers, Charles Hyatt (Joy) of Tupelo, Miss. and Robert Hyatt of Fort Smith. Ben is preceded in death by his wife Sarah, his parents and his sister Effie Elise Hyatt Frazier.
A memorial service will be held at 10 a.m. on July 30 at the Perryville United Methodist Church. Arrangements by Harris Funeral home of Morrilton, Ark. Online Guestbook: www.harrisfuneralhomes.com.
Published July 3, 2022
OBITUARY SUBMITTED BY:
Harris Funeral Home, Inc.
118 South Moose Street, P.O. Box 439, Morrilton, AR
Phone: 501-354-4575
http://www.harrisfuneralhomes.net/