Billy "Bill Joe Wiles
Siloam Springs, AR, 1929 - 2022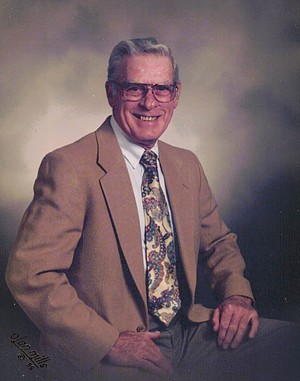 Billy Joe (Bill) Wiles, formerly of Siloam Springs, Ark., 93, died July 14, 2022, at Concordia Health and Rehab in Bella Vista, Ark. Bill was born April 12, 1929, to parents Charlie and Audrey May Carter Wiles at home. He was the oldest of six children. His formative years were spent on the family farm at Melbourne, Izard Co., Ark. He graduated from Melbourne High School 1947, joined the U S Army in July 1948, served a tour on Okinawa, was home on leave when the Korean war started in June 1950, and was immediately sent back to Asia, where he was involved in the "Inchon landing". Following this tour, he was Honorably discharged with the rank of SFC, married Peggy Anne Rauch in Fayetteville, Ark., and started a family. Between working and attending Pharmacy School, he graduated in 1957, then started his career as a pharmacist. Spent five years in Miami, Okla., then moved back to Arkansas and located in Siloam Springs, in 1965. He spent 10 years at Sisco Drug, then purchased all of the Medical Center Pharmacy, where he spent the next 15 years. After closing the Pharmacy, he worked "relief" for other Independent Pharmacies for 13 years, then retired to stay home with Peggy as her health was failing to the point she couldn't be left alone.
He was preceded in death by wife, Peggy; and his parents, and one brother, Edwin.
Survivors include: son, Gary (Lisa) of Little Flock, Ark.; and daughter, Robna Wiles-Pfeifler (Dave) of West Fork, Ark.; granddaughter, Jennifer Wiles of Loveland, Colo.; brother, Phillip Wiles of Flint, Mich., three sisters: Nancy Jeffery & Judy Brookside of Flint, Mich., and Martha Breese of Allen, Texas.
Visitation will be 5:30 p.m. to 7:30 p.m. Monday, July 18, 2022, at Wasson Funeral Home in Siloam Springs, Ark. Graveside services will be 10 a.m.. Wednesday, July 20, 2022, at Caney Springs Cemetery in Izard County, Ark., just a "Whoop and a Holler" from where he entered this Earthly word-full circle. Brother Phillip and Cousin David Jennings will be offering a few nice words. To sign the online guestbook, please visit: www.wassonfuneralhome.com.
Published July 17, 2022
OBITUARY SUBMITTED BY:
Wasson Funeral Home, Inc.
441 West Hwy 412, P.O. Box 29, Siloam Springs, AR
Phone: 479-524-5131
http://www.wassonfuneralhome.com