Bobby W. Sandage
of Maumelle, AR, 1933 - 2022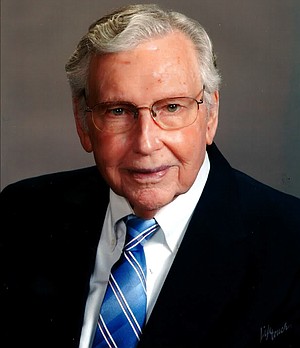 BOBBY "BOB" W. SANDAGE, December 29, 1933 - July 29, 2022
Bob Sandage, 88, of Maumelle, Ark., was called to be with the Lord on July 29, 2022. He was born December 29, 1933, in Donaldson, Ark.
He went to Ouachita High School, where he met and later married the love of his life, Joan Fisher, in 1951. He is survived by his son, Bobby W. Sandage, Jr. (Denise McAhren), Marla J. Gergely (Lou) and Lisa A. Johnson (Galen); six grandchildren: Lindsey C. Vechik, Winston Sandage III, Brittany J. Sandage, Clayton W. Sandage, Becca N. Webb, and Brooke B. Gillum; and six great-grandchildren: Lamar Webb, Caitlyn Richey, Kenny Webb, Lynn Webb, Millie Vechik, and Hazel Vechik; also step-granddaughter, Lauren Richey (Mark).
He is preceded in death by his wife, Joan Fisher Sandage; father, Marley Luster Sandage; mother, Iva Lora Clayton Sandage; and sisters, Melba Sandage Worrell and Anita Sandage Loy.
He was a devoted husband, father, and grandfather. Besides his family, he cherished sports, the outdoors, fishing, and railroad colleagues. He worked for both Rock Island Railroad and Little Rock & Western for over 44 years.
The Sandage family is grateful for the care provided by Stonehaven Assisted Living and Fresenius Kidney Care Little Rock.
Visitation will be held at Roller-Chenal Funeral Home, 13801 Chenal Parkway, Little Rock, Ark., 72211, on Monday, August 1, 2022, from 5-7 p.m. The Funeral will be held Tuesday, August 2, at 10 a.m. at First United Methodist Church, 1201 Edgewood Drive, Maumelle, Ark., 72113. The service will be officiated by Rev. Aubrietta Jones.
In lieu of flowers, donations may be made to First United Methodist Church, 1201 Edgewood Drive, Maumelle, Ark., 72113 (501) 851-2377.
Online guestbook: www.rollerfuneralhomes.com/chenal.
Published July 31, 2022
OBITUARY SUBMITTED BY:
Roller-Chenal Funeral Home
13801 Chenal Parkway, Little Rock, AR
Phone: 501-224-8300
http://www.rollerfuneralhomes.com/chenal