Connor Holst
Mayflower, AR, 2020 - 2022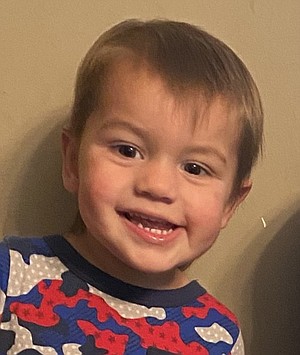 Connor Holst, 2, of Mayflower, Ark., went to be with the Lord July 24, 2022. He was born March 12, 2020, in Conway, Ark., to Bradley and Adriana Holst. Connor was preceded in death by great-grandparents, Rev. Fredrick and Yvonne Holst, Lamayone and Melvagene Foster; great-grandfathers, Jerry Burgess and Warren Travis.
Connor was a precious little boy with the most amazing smile and always full of joy. He was always on the go and not afraid to try anything. One of his favorite things was trying to join in with anything that his brother was doing. He also enjoyed playing WII with his Papa, baseball with his Bubba, wrestling with his dad, Facetime with his Gampa, and rocking with his Mommy. He had a servant's heart at such a young age. Nothing was ever boring and quiet with Connor around. He will be missed by anyone who had the privilege of knowing him.
Left to cherish his memory: parents (Bradley and Adriana Holst); brother, Oliver; grandparents, Rev. Fred and Sheila Holst, Jr. (Mayflower); Tim and Jennifer Sandor (Texarkana, Ark.); great-grandmothers (Sue Burgess, Ashdown, Ark.) and Pam Travis, Texarkana, Texas). He also leaves behind numerous aunts, uncles, cousins, and extended family.
Services will be Monday, August 1, 2022 at 10 a.m., with visitation from 9 a.m. until the time of services at Roller-McNutt Funeral Home in Conway, Ark.
Online guestbook available at: www.rollerfuneralhomes.com/conway.
Published July 31, 2022