Sally Trammell Burnett
of Little Rock, AR, 1946 - 2022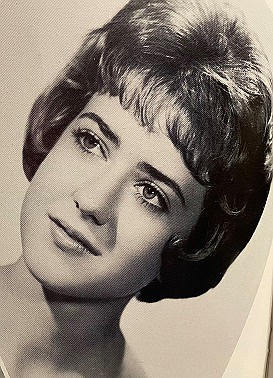 SALLY TRAMMELL BURNETT was born in Holdenville, Okla., on January 24, 1946, and passed away on April 23, 2022, from complications with Alzheimer's. She fought a strong five year battle.
"Sally Goodin" (nicknamed by her grandparents, who lived with The Depression, and that 1912 Woody Guthrie song) graduated DeQueen, Ark., high school, as the baton-twirling, marching band majorette, homecoming queen, and cruiser of Don's Snack Bar with a baby blue '64 Nash sedan.
After a 'Home Economics' degree (with high apron-honors) at Fayetteville as a Theta, she moved to Little Rock for a BS in Nursing at the 'Medical School.' She stumbled into (ok, she tackled) her husband of 49 years, Hugh Burnett M.D. (deceased). They lived the life of Marcus Welby, M.D, and Ozzy & Harriett, but in color, with her two active sons, dogs, cats, birds, reptiles, vacations, kinfolk, impromptu cocktails with drop-ins of brothers and sisters, medical conventions, dune-Allen beach trips, relaxing with no duties or the males during duck season, weekly Catholic Mass downtown, and the formal functions of the physician locally and nationally.
She was a proud, dedicated, and loving mother, and also the domestic sheriff. However, Tom and 'Lin' only thought they were a step ahead and they were fearful of her 'hammer'. They had three homecooked meals daily, her regular presence at their schools, and she obliged them with things they thought were necessary in their young lives. She was, of course, an excellent cook and baker. Later, she and Hugh had all five granddaughters over for dinner every Sunday night, as a ritual. She was a memory maker for young lives.
She was a beautiful woman of slight build, Betty Boop eyes, and a white mane, and she cordially engaged the average stranger. She wore good clothes and she made the look. She was very social as a grace, but slightly eccentric, like a practice of cutting the top front half out of her athletic shoes at home.
Sally loved animals, and every one of them out back knew it. She fed an army of mammals and birds, wild and domestic, coon, skunk, or fox. The family was attached to the always inside dog, and so crushed when they died, they could no longer deal with the loss. Cats were a loving substitute thereafter.
Sally is survived by her brother, Robert Trammell; son, Hugh III (Lin) and wife, Suzanne; son, Thomas and wife, Jennifer; five beautiful granddaughters (by age), Haley, Hope, Rebecca, Brette, and Sydney. Also, her brothers and sisters-in-law, Lee Wineland, MD, Daria Wineland, Pam Willis, Teresa Wineland, Vicki Perry, and Gregory Wineland.
She is preceded in death by her parents, Bob and Roberta Trammell; brother, Tommy Puckett; and her beloved husband, Hugh F. Burnett, MD (May 14, 2018).
Special thanks to Drs. Charles and Jan Sullivan, Dr. Pat and Teresa Osam, and Teri Wilson.
Memorial service is Thursday, May 5, at the Cathedral of St. Andrew downtown, 10 a.m. Visitation will be at Roller-Chenal on Wednesday, May 4, 6-8 p.m.
Memorials can be made to Alzheimer's Disease Research (ONLINE: brightfocus.org/cureAD), or the Humane Society of Pulaski County.
For family communications please email if needed: burnettomf@gmail.com
Please share your memories of Sally at: www.rollerfuneralhomes.com/chenal.
Published May 1, 2022
OBITUARY SUBMITTED BY:
Roller-Chenal Funeral Home
13801 Chenal Parkway, Little Rock, AR
Phone: 501-224-8300
http://www.rollerfuneralhomes.com/chenal