Jerry Linn Graddy
Conway, AR, 1948 - 2022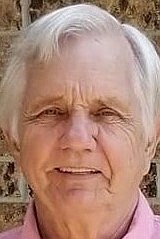 Jerry Linn Graddy, 73, died on the 30th day of April, 2022, in Conway, Ark. He was born in Conway, on May 12, 1948, to the late Elmer and Jessie Mae (Roberts) Graddy. He is survived by his brother, Larry Graddy of Conway; daughters, Amy Graddy St. John (Husband Chad St. John, grandson Hayden Connor St. John of Plano Texas) and Wendy Williams, Conway. He is also survived by his grandchildren, whom he has raised since early childhood, Jackson Graddy, 19, a freshman at Texas A&M Galveston, and Jordan Williams, 17. Jerry has two former wives, Karen Graddy, son, deceased, Henry Morschhiemer and daughter, Eva Dedmon, of Rogersville, Missouri, and Rosemary Conville of Conway, Arkansas. Jerry attended Conway's Grace United Methodist Church. He was active with Boy Scout Troop 534 at Grace United Methodist Church where he was very proud of his son, Jackson, for becoming an Eagle Scout.
Jerry graduated from the Conway High School in 1966 and the University of Central Arkansas, formerly Arkansas State Teacher's College, in 1971 with his bachelor's degree. He joined the Army Reserve in 1970 and served until 1976 with the 489 Engineering Battalion. Jerry spent his career working as an entrepreneur and was a staple in the Conway community and beyond. As the owner of Graddy Woodworks, and later Graddy Countertops; he was known as a detail oriented, hardworking cabinet builder, carpenter, and handyman. In more recent years he was a well-known Corian and Granite countertop installer. His artistry with woodwork is found in many residences and businesses in Conway. Jerry was a person of energy; he did not retire and was working until the end. His passion was helping anyone, anytime, and anywhere. The number of lives he touched with his countless good Samaritan deeds, or favors, or just doing it because it was the right thing to do will be the one thing everyone remembered. His life was filled with service to others, which helped make him the richest man on earth, for he lived and truly cared for everyone he knew.
A viewing will be Saturday, May 7, at 1 p.m., at Grace United Methodist Church of Conway with services following at 2 p.m., at the church. Online guestbook: www.rollerfuneralhomes.com/conway. In lieu of flowers, donations can be made to Troop 534's scholarship fund in Jerry's name.
Troop 534, 4855 Westin Park Dr., Conway, Ark., 72034.
Published May 5, 2022
OBITUARY SUBMITTED BY:
Roller-McNutt Funeral Home
801 8th Avenue, P.O. Box 249, Conway, AR
Phone: 501-327-7727
http://www.rollerfuneralhomes.com