Kenneth Ray Williams
of Little Rock, AR, 1946 - 2022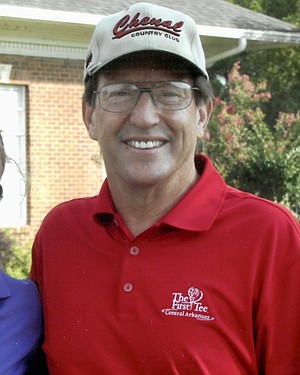 KENNETH RAY WILLIAMS, 75, died of cancer on May 2, 2022 in the home he built in Little
Rock, Ark. He was with his family.
Kenny Ray was born on December 4, 1946, in the small town of Caney, Kan., which
was never going to be big enough for his personality. His childhood antics summoned
the authorities on a number of occasions.
An alumnus of both the University of Oklahoma and Oklahoma State University, no
internal conflict has ever exceeded that of Kenny's during football and wrestling season.
College life provided the necessary components for peak nonsense with his lifelong best
friends, Ricky Lee Hess and Jim Bowen.
He was a dedicated, if somewhat haphazard, athlete. Throughout his life, Ken dabbled in
football, basketball, wrestling, tennis, golf and pretty much any other sport offered
intramurally or at the local YMCA. He was also a crowd-pleasing intermediate pianist,
stained glass artist, home inspector, talented bridge player, party costume designer, and
amateur doomsday prepper.
Ken was a master carpenter, his mountain home being his crowning achievement. From
dynamiting a huge hole in a ridge in 1982 to his signature stonework, every inch of his
Ferndale home has his flair.
He is survived by his wife, Donalee Bailey Williams, who holds the distinction of having
successfully navigated 51 years of Kenny Ray's shenanigans; his son, Ryan, who
carries on his legacy as a fashion visionary; his daughter-in-law Theresa Warner, who
"destroyed him at Boggle"; his daughter, Hillary, who inherited his reckless affinity for DIY
projects and unwavering love of Taco Bell; and his beloved grandchildren, Cora and
Jonah. He is also survived by his sister, Betty Pichardo, who he proudly declared is a far
better pianist than he ever was.
It's incredibly difficult to briefly summarize a man who lived so many lives. We ask that
his loved ones keep him alive through his stories. Feel free to add some creative
embellishments; he would have done the same.
In lieu of flowers, donations may be made to the Humane Society of Pulaski County or
your local animal shelter.
A celebration of life will take place at 3 p.m. on Sunday, May 15, at Chenal Country
Club. Online guestbook at www.smithfamilycares.com.
Published May 8, 2022
OBITUARY SUBMITTED BY:
Smith Little Rock Funeral Home
8801 Knoedl Ct., Little Rock, AR
E-mail: littlerock@smithfamilycares.com
Phone: 501-224-2200