L.B. "Butch" Pixley
of North Little Rock, AR, 1922 - 2022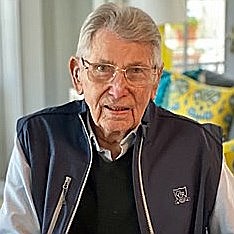 L.B. (BUTCH) PIXLEY, 100, of North Little Rock passed away on May 5, 2022. He was born on March 28, 1922, to Maggie Sanders Pixley and Reverend Giles B. Pixley in Emerson, Ark.
Butch was a proud American and served our country in the U.S Navy. He was a professional barber for over 45 years. Butch was an avid fisherman and golfer. He was a member of the Burns Park Golf Course Wall of Honor. He was a lifelong Methodist and served as an usher at First United Methodist Church in North Little Rock for many years. Butch recently celebrated turning 100 years old, surrounded by family and friends. He is preceded in death by his beloved wife Alverne McKee Pixley, they were married for 49 years and were devoted to one another. Butch is survived by his sister Mary McBride of Little Rock and his nieces Lisa (David) Trent, Sherry (Buddy) Dills and Vickie French, Penny French, Kerry White, Dr. Melanie (Chuck) Woodall, nephews Greg Pixley, Mark Pixley and Thomas Landrum
A service will be held on Monday May, 9, 2022 starting at 1 p.m. At Griffin Leggett Rest Hills Funeral Home in Sherwood, Ark. In lieu of flowers, memorials may be made to Operation Smile, Union Rescue Mission and the Salvation Army.
Published May 8, 2022