Sonia Gay Drewry
Rogers, AR, 1933 - 2022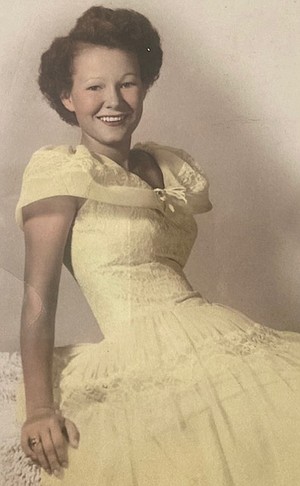 Sonia Gay Drewry, 89, entered into the assurance of eternal life with her Lord and Savior Jesus Christ on May 6, 2022. She was born January 20, 1933 in Stidham, Okla., to Guthrie and Atha Ewing.
Gay was born in the midst of the Great Depression, a time that endowed its children with a strength and resolve that would serve them their entire lives. Gay was no exception to this. The oldest in her family, she was often counted on to be mother as well as sister. She was fiercely loyal and protective of her family. She met Fay Drewry, her husband for life, in California, and they were married August 30, 1953. Fay served in the Air Force for 23 years and Gay was a faithful and supportive military wife. Upon Fay's retirement from the Air Force, the two of them decided to relocate their family to Fay's hometown of Witt's Spring, Ark., where they lived until their sons completed high school. After both boys graduated, they relocated to Rogers, Ark., where they both worked and retired with Wal-mart. They have been happily married for 69 years.
Gay's life is testimony to the truth of God's promise to those who believe and follow Him. Although she is no longer here, her example of love, loyalty, and steadfastness will never leave her family or those that knew her well.
Gay was preceded in death by her parents. She is survived by her husband, Fay; her two sons: Timothy (Debra) of Edmond, Okla., Donald (Lisa) of Bentonville, Ark., nine grandchildren; two great-grandchildren; her sister, Sue (Flower Mound, Texas); brother, Joe (Reserve, N.M.); brother, David (Phoenix, Ariz.); and sister, Jan (Caringbah, Australia).
Funeral services will be held at First Baptist Church, Centerton, Ark., on Thursday, May 12, 2022 at 10 a.m., with Pastor Joshua Babb officiating. Interment will be at Benton County Memorial Park in Rogers, Ark., under the direction of Rollins Funeral Home.
Published May 8, 2022