Melba Ann McKeehan
of Jacksonville, AR, 1948 - 2022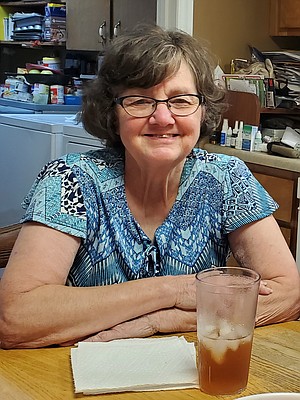 MELBA ANN MCKEEHAN, 74, of Jacksonville, was scooped into the arms of her Savior on Friday, May 13, 2022. Melba was born January 20, 1948 to Chester "Joe" and Ruth "Marie" Hawkins.
She was raised in Myrtle, Mo., with her siblings Kathryn Clark and Travis Hawkins. Melba was the 50-year bride of John Carl "Stoney" McKeehan. Together, they built a life of love and humility in public and community service. Stoney and Melba have two children: John "Daniel" McKeehan of Jacksonville and Angela (Blake) Williams of Jonesboro. Melba loved hosting Camp Grandma/Mamaw for her grandchildren, John "Austin" (Abby) McKeehan of Jacksonville, Katelyn McKeehan of Sherwood, Lily and London Williams of Jonesboro. Melba also had countless other "kids" from her 38 year career as a public school kindergarten teacher. Once you were in her class, you were always one of her kids.
Melba was known in the community for her gift of hospitality and her servant's heart. Her aquamarine eyes always saw the best in everyone. Her gentle spirit made everyone feel like they were the most important person she ever met. Everyone used the back door because there was no difference between friends, family, and acquaintances. Melba always had sweet tea waiting. If you were hungry, she fed you a southern home cooked meal followed by a scratch dessert. It was definitely your lucky day if it was one of her pies. Life revolved around Melba's kitchen table. In the spring, her flower gardens were in full bloom and cuttings were often gifted to those who she wanted to make smile. Summer vegetables were shared with anyone who showed interest in them. Melba will surely be missed by her church family at Crossroads Cowboy Church in El Paso, Ark.
Friends and family are invited to attend a casual visitation honoring Melba's life and legacy at Natural State Funeral Home in Jacksonville, Monday, May 16, 2022, 6-8 p.m. Graveside service will take place at Cypress Valley Cemetery, Vilonia, Tuesday, May 17, 2022, 2 p.m. In lieu of cut flowers, the family welcomes potted plants, flowering shrubs, and trees.
Arrangements are entrusted to: A Natural State Funeral Service, 2620 West Main Street, Jacksonville, Ark. 501-982-3400.
Published May 15, 2022
OBITUARY SUBMITTED BY:
A Natural State Funeral Service
2620 West Main Street , Jacksonville, AR
E-mail: anaturalstatefuneralservice@gmail.com
Phone: 501-982-3400