Margie Sipe
of Little Rock, AR, 1934 - 2022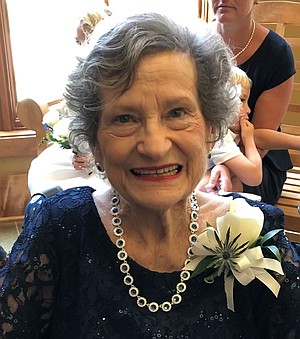 MARGIE STEPHENS SIPE went home to be with her Lord and Savior, Jesus Christ, May 18, 2022. She was born November 21, 1934 in Houston, Texas. She is a 1952 graduate of Milby High School and 1956 graduate of the University of Houston. She was married to John M. Sipe, Jr. for 41 years.
She had a long career as an educator and assistant principal in the Catholic Diocese of Houston including St. Frances de Sales and the Regis School for Boys. She was an active member of the Houston Mothers of Twins and Multiples Club (triplets). She was an amazing cook, winning awards in the Houston Chronicle for her famous cranberry recipe. Margie was a member of Second Baptist Church, Woodway campus, where she sang in the choir, filled communion cups, and was active in her Sunday School Class. She loved to cook, she loved the beaches in Bolivar Peninsula, and above all, she loved her family.
She spent her last two years in Little Rock to be near her daughter. She attended St. Andrews Anglican Church and enjoyed worship, Bible Study, and volunteering at Live Thankfully non-profit.
She will be remembered for her infectious laugh, her love for Jesus Christ, and her love of all things red, white and blue. She was preceded in death by her devoted husband, Jack. Survived by her four children, their spouses, and 10 grandchildren, who were the apple of her eye: Stephen, Abby, Sebastian, Lily, and Oliver Sipe of San Antonio, Texas; Kimberly (Sipe), Robert, Alexander, and Ali B. Cook of Little Rock, Arkansas and Ann Claire (Cook) and Connor Gaydos of Los Angeles, California; April (Sipe), Chris, Emery and Jack Perrenot of Houston, Texas; Jonathan and Riley Sipe of Sugar Land, Texas and Zachary Sipe of Fort Worth, Texas.
A visitation will be held Sunday, May 29, 2022, at 10 a.m., at Forest Park Lawndale Funeral Home, 6900 Lawndale Street, Houston, Texas, 77023, with chapel services starting at 11 a.m. A graveside service will follow at 12 p.m., at Forest Park Lawndale Cemetery.
Published May 22, 2022