Daniel Ross Grant
Arkadelphia, AR, 1923 - 2022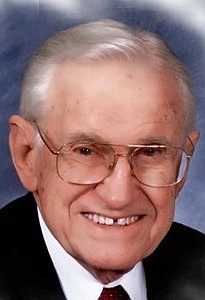 Daniel R. Grant, President Emeritus of Ouachita Baptist University, died May 25, 2022. He will be remembered as a man of faith, a global educator, churchman, author, human rights advocate, tennis enthusiast, and committed family man.
Dr. Grant was born August 18, 1923, in Little Rock, Ark., the son of James R. and Grace Sowers Grant. He spent his childhood in Arkadelphia, where he developed a love for nature and the environment through Scouting, attaining the rank of Eagle. He graduated from Arkadelphia High School (co-valedictorian, 1941). He earned a BA degree from Ouachita (summa cum laude, 1945), an MA degree from the University of Alabama, and a Ph.D. in political science from Northwestern University.
In 1948, Dr. Grant joined the faculty of Vanderbilt University, where he taught political science for 21 years. He gained national recognition as an authority on urban and metropolitan government. Grant served as the founding director of Vanderbilt's Urban Research Center and was employed as a consultant to many U.S. cities. Most notably, he was a co-designer of the distinctive Nashville Metro government adopted in 1962. He authored and co-authored numerous books and articles in his field, including Metropolitan Surveys: A Digest, The States and the Metropolis, The Christian and Politics, and State and Local Government in America, a widely used college textbook for 20 years. During 1958-1959, Grant and his family lived in Bangkok, Thailand, where he taught municipal government and planning at Thammasat University and served as a consultant to the city of Bangkok. He traveled extensively and studied local governments and urban development in Malaysia, South Vietnam, Cambodia, and the Philippines. In addition, Grant supported the work of local missionaries and the Calvary Baptist Church in Bangkok. He taught English to Thai students in his home by reading and discussing the Gospel of John.
Upon returning to Nashville, he established a ministry to international students at First Baptist Church and became an advocate for global education and missions. For many years he led the college Sunday School department at First Baptist Nashville where he also served as a deacon. He authored many articles in The Baptist Student magazine and was a popular denominational speaker in the 1950s and 1960s.
In 1970, Grant left his successful career to become the 12th president of Ouachita Baptist University in Arkadelphia, Ark. At the time, his alma mater was operating in the red, faculty morale was low, and relations with Arkansas Baptists were strained. Grant had grown up on the campus while his father, J.R. Grant, served as Ouachita's eighth president. He watched his father struggle to save the school from closing during the Great Depression then lead in its growth and development. The decision to abandon his Vanderbilt career did not come quickly or easily, but in the end, "God, father, and alma mater" were the reasons he shared with his surprised colleagues.
During his 18-year tenure as president, Grant led Ouachita in achieving significant growth in academic strength, student enrollment, international focus, relations with constituents, fund-raising, and a rebuilding of the campus. Grant spoke in churches throughout Arkansas. "Academic and Christian Excellence" was the phrase he used to emphasize Ouachita's "great tradition, mission, and continuing challenge". In 1972 he began writing a column for the Arkansas Baptist Newsmagazine. "One Layman's Opinion" became widely read, discussed, and reprinted during its 16-year duration. When he retired in 1988, the Grant Center for International Education was named to honor his initiatives to "bring the world to Ouachita, and take Ouachita to the world". Grant was named President Emeritus of the university.
Grant began a third career following retirement. He volunteered to lead the Consortium for Global Education after having helped in its establishment in 1987. During his 10-year service, membership grew to 48 Baptist colleges and universities. Under Grant's leadership, CGE promoted increased global involvement and resulted in several hundred exchange agreements in some of the more restricted parts of the world. His wife, Betty Jo, served as his faithful assistant, advisor, confidant, and travel partner as she did throughout their 72 years of marriage. Grant was a member of the Baptist World Alliance Commission on Human Rights, chair of the SBC Education Commission, president of Arkadelphia's Rotary Club, served on the Executive Council of the Southern Political Science Association, and spoke at the inaugural meeting of the Arkansas Political Science Association. He served on numerous boards including the Arkansas Baptist Foundation, Union National Bank, and TCBY.
In retirement, he was appointed by Governor Huckabee to serve on Arkansas' Higher Education Coordinating Board. He was elected 1st vice president of the Arkansas Baptist State Convention. Grant was a faithful member of Arkadelphia's First Baptist Church, served as a deacon, sang in the choir, chaired numerous committees, and volunteered in the Arms Around Arkadelphia ministry.
Dr. Grant is survived by daughters Carolyn Walton (Bill), and Shirley Hardin (Phil); and by son, Daniel Ross Grant, Jr. (Liz). Other survivors include five grandchildren, Tad Hardin (Monica), Allison Hyll (Dan), Jon Hardin (Katie), Gary Grant (Katherine), and Gina Scheer (Zach); and 12 great-grandchildren, Zachary, Isaac, Charlie, and Leo Hardin; Keller and Kaleb Hyll; Elliott, Julianne, and Mason Grant, and Jordan, Adam, and Molly Scheer. He was predeceased by his wife, Betty Jo Oliver Grant; his parents; two brothers, James Richard Grant, Jr., and George S. Grant; and two sisters, Elizabeth Grant Stanford and Harriet Grant Hall.
A celebration of life will be held Saturday, July 23, at 10:30 a.m. in the First Baptist Church of Arkadelphia, under the leadership of the church's pastor, Rev. Jimmy Darby, and former Ouachita president, Dr. Rex Horne.
Memorial gifts may be made to the Grant Center for International Education, in care of the Development Office, Ouachita Baptist University, OBU Box 3754, Arkadelphia, Ark. 71998, or to Arms Around Arkadelphia, in care of First Baptist Church, 116 North 7th Street, Arkadelphia, Ark. 71923.
Final arrangements are entrusted to The Welch Funeral Home of Arkadelphia. Visit www.welchfh.net to sign the guestbook.
Published May 27, 2022
OBITUARY SUBMITTED BY:
Welch Funeral Home
202 South Fourth Street, Arkadelphia, AR
Phone: 870-230-1400
http://www.welchfh.net