John Edward Regenold
Blytheville, AR, 1931 - 2022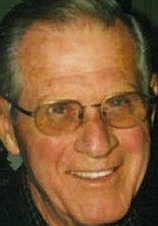 John Edward Regenold, passed away peacefully at his home in Blytheville, Ark., surrounded by his family on Thursday, May 26, 2022, at the age of 90. He enjoyed a long and happy life. John Ed graduated from the Kentucky Military Institute in Louisville, Ky., and later attended the University of Arkansas where he was a member of the Kappa Sigma Fraternity. He was a lifelong resident of Blytheville and was a member of the First United Methodist Church. He served on the Mississippi County Quorum Court and on many committees and boards, including the Blytheville Area Chamber of Commerce, First National Bank Board, Dell Compress Board, Regenold and Earls Real Estate Co. Board and Mississippi County Hospital Board, and was appointed Commissioner of the Drainage District 17 for Mississippi County. He was Chairman of the Mississippi County Hospital System during 2005-2006 and a longtime member of the St. Francis Levee Board from 1998-2021. John Ed received the Certificate of Merit for Outstanding Accomplishment from the Soil Conservation in 1968. In 1981 he was appointed by Governor Bill Clinton to serve on the Governor's Advisory Committee – Indigent Care and was later appointed by Governor Mike Huckabee to serve on the Arkansas Turnpike Authority as well as the AEDC from 2000-2005.
He was a member of the Arkansas Highway Commission during 2005-2014, appointed by Governor Mike Huckabee and served a two-year term as Chairman 2013-2014. During his ten-year active membership with the Highway Department, he was instrumental in acquiring funds for a four-lane corridor from Highway 67 at Newport to Highway 49 in Jonesboro, and from Highway 18 in Jonesboro to Blytheville to connect I-55. In 2005, John Ed was elected Citizen of the Year by the Blytheville Lions Club. In 2014 he was honored with the Lifetime Community Achievement Award by the Greater Blytheville Chamber of Commerce and received the Prestigious Arkansas Agriculture Hall of Fame Award in 2021. Though he enjoyed being involved in all the many committees, farming and ginning were his passion and livelihood. He was well respected in the community in which he lived and farmed. He always made sure his farmlands were well cared for and maintained. He began his career in 1953 with Armorel Planting Company, became Vice President of the Company in February of 1960, and in 2002 became president and Chief Executive Officer, where he held this position and title until his death. He lived life to the fullest and made sure his efforts were not in vain as a businessman, husband, father, grandfather and friend.
John Ed was preceded in death by his beloved wife of 66 years, Martha Dale Dixon Regenold, his father, Edward Marshal Regenold, his mother, Golden Moore Regenold, and one sister, Ida Patricia Regenold. He leaves his wife of three years, Mary Rose Regenold, who loved, cared for, and nurtured him until death. He leaves his adoring children, Dixie Golden Regenold of Armorel, Martha Dale Regenold of Rogers, Edward Marshall Regenold II (Susan) of Armorel and Leigh Regenold Clower of Rogers. John Ed, known as "Papa" to his grandchildren, whom he cherished, leaves Dr. Catherine Terrell (Jeremy) of Jonesboro, Elizabeth Hubbard of Little Rock, Marshall Hubbard (Amy) of Fayetteville, Olivia Upton (Jeremy) of Bentonville, Victoria Fergus (Chris) of Cave Springs, Rosalynn Jessee (Chris) of Rogers, Alexandra Regenold, attending the University of Arkansas, Fayetteville, Will Clower (Leigha) of Phoenix, Arizona, and Evan Clower of Rogers, Arkansas and 9 great-grandchildren: Jackson, John Riley, Hudson, Jack Carter, Vivian, Wells, Rowan, Georgia and Florance.
He leaves two cousins, Peggy Joe Greenwell (Lynn) of Trumann and Dr. Regenold Cullom (Sandra) of Osceola. We would like to give a special thanks to Dr. Cullom for always going above and beyond and for taking the time to care for John Ed, day or night.
He leaves his nieces and nephews, Charlie Dixon (Beth) of Little Rock, Bart Dixon (Debbie) of Blytheville, Dana Dixon Austin (Jason) of Blytheville. John Ed leaves his long-time special friends, Calvin and Hattie Johnson, whom the family extends a special appreciation for their dedication, compassion and love in the care of their dad and Papa. John Ed also leaves many other relatives and friends.
Funeral services will be held Saturday, May 28, at 2 p.m., at First United Methodist Church in Blytheville. The family will receive friends beginning at 1 p.m. Burial will follow in Maple Grove Cemetery. In lieu of flowers, the family requests that memorials be made to the First United Methodist Church in Blytheville or to Arkansas Children's Hospital in Little Rock. Condolences may be expressed the family at: www.cobbfuneralhome.com.
Published May 28, 2022
OBITUARY SUBMITTED BY:
Cobb Funeral Home
603 W. Main St., P.O. Box 547, Blytheville, AR
Phone: 870-763-4431