Crystal Joy Cordts Hansen Hall
Bella Vista, AR, 1951 - 2022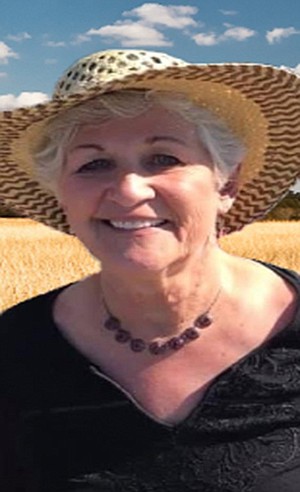 Crystal Joy Cordts Hansen Hall was called home to be with her Savior May 19, 2022, at the age of 70. She was born in Omaha, Neb., August 20, 1951. This precious woman is survived by her loving husband, Troy Hall; and his son, Brian; her own beloved son, Keith Hansen, and his beautiful wife, Julie; their daughters, Lacy Hix and Melissa Fick; and grandchildren, Adriana Hix, Robert Fick, and Cody Fick. Also surviving are her sisters, Patricia (Dennis) Martin, Cheryl McCorry; her only brother, Stan (Jane) Cordts; and many nieces, nephews, cousins, and aunts, whom Crystal cherished.
Crystal exemplified the Proverbs 31:25 woman, "Strength and dignity are her clothing, and she laughs at the time to come." She always stood tall on her own strength with her Lord's help and was prepared to continue on every day through many adversities. Her very last day in absolute "joy," her middle name, was planting flowers. Her laughter was contagious to all, and everyone became her immediate friends. Crystal was full of wisdom, love and compassion from the deepest recesses of her heart. Her son, Keith, shared "her love was in baking and cooking, so she could enjoy with others." In her last week, she made a beautiful, scrumptious carrot cake she had wanted to make for a long time and brought it to her Women's Bible Study Class, which brought immeasurable "joy" to her heart and to her precious friends!
Her heart has always been with all God's creatures. There wasn't an animal she wouldn't rescue, love, or feed. She would take care of them all—the weakest to the strongest, the lost to be found, the damaged, the homeless. Crystal loved them all, including the birds in the air! She would get up early in the morning to put out feed for the hummingbirds and made sure the deer in the fields always had grain.
Her love and compassionate spirit will be missed tremendously by her devoted family, friends, her Women's Bible Study family, her Bible Study Fellowship family, and her Keypoint Church family, and all God's creatures. Her present residence…Heaven!
"Her life shouts out to the 'praise of His glory,'
A life filled with His grace, redemption's story!
Her heart overflowing in a fountain of love.
A heart chosen, transformed from above.
Her Spirit of Mercy so full, so pure,
A Spirit of His love, a love which endures.
Rejoicing, singing, no burdens, no pain…
Crystal, your victorious race complete, all is now gain!"
(inspired by the heart of God from the book of Ephesians)
Please join us in celebrating Crystal's life at Keypoint Church, 3700 Medical Center Parkway, Bentonville, Ark., on Saturday, June 18, 2022, at 11 a.m. In lieu of flowers, donations may be sent to: Bella Vista Animal Shelter, BVAS, PO Box 5248, Bella Vista, Ark., 72714, or call (479) 855-6020 in memory of Crystal Joy.
Published May 29, 2022
OBITUARY SUBMITTED BY:
Benton County Memorial Park Funeral Home and Crematory
3800 West Walnut, PO Box 328, Rogers, AR
E-mail: kflowell@gmail.com
Phone: 479-636-2412
http://www.bentoncountymemorialpark.com/