Lynda Lavell Hitchcock
Kettle Falls, WA, 1943 - 2022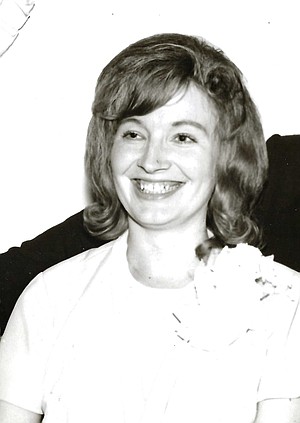 Lynda Lavell (Mason) Hitchcock, age 79, passed away at her Kettle Falls home on Oct. 17, 2022, with her loving children by her side. Lynda was born on March 31, 1943 to Edward Lee and Josephine (Ratcliff) Mason in Dumas, Ark.
Raised by her grandparents in the Pine Bluff area, Lynda would meet the love of her life, Donald "Don" Hitchcock, before graduating high. Lynda had been staying with her father, Edward, in Berryhill, Oklahoma, and she and Don were immediately taken with each other. At the end of the school year, Lynda would return to her grandparent's home in Pine Bluff, maintaining a relationship with Don back in Oklahoma. Don would come to visit and write, and then on the day of her high school graduation in 1961, he would ask for her hand in marriage.
Lynda relocated to Tulsa with Don immediately after graduation, where they would be wed just a few weeks later. Don enrolled in technical school to become a contract draftsman, taking his first job as a draftsman immediately upon graduating, and Lynda stayed at home, raising their son, Eugene. Ten years later, Lynda and Don would welcome a daughter, Cheri. As Don traveled for work from place to place, Lynda and the kids would follow.
In her free time, Lynda loved to keep up with current world events, from the stock market to politics, which she loved to discuss with her son-in-law Nathan, Lynda was always up-to-date and ready to chat. Her grandchildren loved all the special little things she did with them and for them to make them feel special. She was also a poet, passing her love of writing on to her daughter, Cheri; Lynda was also a lover of architecture, especially Frank Lloyd Wright, whose contemporary design she was quite fond of. She and her son Eugene shared a love of learning survival training and the ocean. She was a forever learner and was excited to share her knowledge with others. Lynda was greeted at the gates of heaven by her loving husband of nearly 61 years, Donald "Don" Hitchcock, as well as her parents, Edward and Josephine Mason. She is survived by her sister, Jimmie Jo Keehn; her children, Eugene Hitchcock and Cheri Durbin (Nathan) of Kettle Falls, Wash.; her grandchildren, Caitlyn Casey (Andrew) of Butte, Mont., Curtis Durbin (Stephanie) of Portsmouth, Va., and Larry Hitchcock (Lisa) of Tulsa, Okla.; and her great-granddaughters, Sarah, Parker, and Hallie. Please visit the online memorial and sign the guestbook at www.danekasfuneralchapel.com. Danekas Funeral Chapel and Crematory are entrusted with the arrangements.
Published November 6, 2022