Christopher D. Tobler
DeLand, FL, 1967 - 2022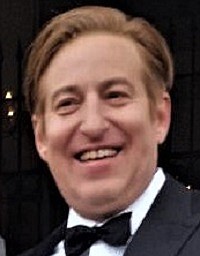 Christopher D. Tobler "Chris", 55, of DeLand, Fla., formerly of Rogers, Ark., recently died on November 2, 2022, unexpectedly at his home. He was the son of Art and Judy (Bitting) Tobler, and brother of Pete.
He was born in Three Rivers, Mich., and moved with his family to Rogers in 1978. He graduated from Rogers High School and received a B.A. from Boston College. He attended the University of Arkansas for graduate work where he earned an M.A., MBA, and a PhD. He taught at Northwest Arkansas Community College, University of Arkansas, University of Florida, Stetson University, and Innsbruck, Austria.
Chris had a zest for life, was generous, and loved his family and his friends. He enjoyed books, movies, gourmet dining, long discussions, and the Razorbacks. He had traveled extensively throughout Europe.
Chris is survived by his parents; his brother, Pete; and Loriane Pickell. Also surviving are his aunts, Sandy Adams, Barb Barrett, Georgia Tobler, and Joan Tobler; and numerous cousins. Chris was preceded in death by his brother, Mike; and his grandparents. He will be greatly missed.
Graveside services will be held at a later date. Memorials may be made to a charity of the donor's choice.
Published November 9, 2022