Anne Goyne Mitchell Calhoun
Houston, TX, 1924 - 2022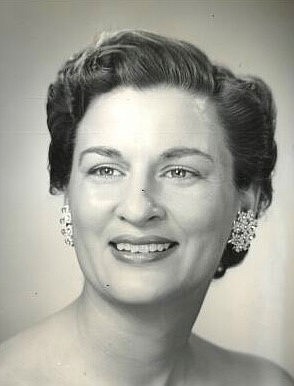 Anne Goyne Mitchell Calhoun, 98, died peacefully at home on November 13, 2022, surrounded by her family and loving caregivers. Known as "Mima" to her grandchildren and great grandchildren, she will be deeply missed by everyone who knew and loved her.
Anne was born on February 4, 1924, in Ruston, La. to Charles Covington Goyne and Anniebel Taylor Goyne. She grew up there with her parents and older sister, Jane. Her father was Mayor of Ruston from 1927 to 1941 until his death, when Anne was just 17.
College years were a source of great joy for Anne. She received her degree in Home Economics at Louisiana Tech, where she was President of Kappa Delta and of Panhellenic Council; a member of Blue Jackets and Who's Who in American Colleges and Universities; and a Kappa Sigma Sweetheart. She loved to dance, reminiscing that her "Dance Card" was always full.
A woman of many talents, Anne was truly ahead of her time. Like her father and mother, who obtained college degrees from Louisiana Tech in 1907 and 1908, she placed a high value on education. After graduating from college, and while married with two small children, she completed her master's degree in Biology at Louisiana Tech. Later, while working to complete her PhD, she taught public speaking and served as the debate coach at Ruston High School. Upon moving to Houston in 1969, she became a professor at Sam Houston State University in Huntsville, where she worked until her retirement at age 52. A lifelong educator, she took great joy in sharing her love of learning with her students, friends, and family. She often said that her teaching years were among her happiest. She also said that if someone had paid her to be a student, she would have remained one her entire life.
Anne was equally as educated as she was skilled at homemaking. As the mother of two small children, she entered the Mrs. Louisiana contest and won the title of Mrs. Louisiana, followed by Mrs. America! She was most excited to win the prize of a new station wagon for her family, seconded only by a new washing machine. She won by suggesting that colors be sorted, zippers zipped, and snaps snapped prior to washing the clothes.
Anne recalled that some of her happiest years were spent in Little Rock, Ark., with her second husband and childhood sweetheart, Dr. Joseph Davidson Calhoun. They married in 1980 and enjoyed 28 years together, making lifelong friends and traveling the world until his death in 2008. One of Anne's greatest joys in life was to have her children and grandchildren visit their lovely home in Little Rock. She was particularly loved by her grandchildren for her amazing pound cake.
Upon moving to Houston from Little Rock in 2012, Anne's dear friend, Bitsy Hill, introduced her to many new friends and invited her to join her book club. Anne loved to read, finishing two newspapers daily and several books per week. Through Bitsy's warm welcome, Anne made many sweet Houston friends who shared a love of books and also for one another.
Anne was preceded in death by her parents and her sister, Jane, along with two brothers who passed away as toddlers, as well as her first husband, Emmett L. Mitchell, who died in 1973, and her second husband, Joseph D. Calhoun, MD. She is survived by her two children: Lee Mitchell and wife, Sandy, and Lindy Hill and husband, Graham. She is also survived by her grandchildren and great-grandchildren, Aime Mitchell, Charlotte Mitchell and partner Katie Tolbert (George), Taylor Bawcom and husband, Clint (Emmy, Bo, Annie, Hunter), Bo Hill, John Graham Hill and wife, Maria (Jackson, Cecilia), and Peter Charles Hill and wife, Kelly (Peter Ryan). She is also survived by her niece and nephews, Marilyn Waldron, Larry Sims, Frosty Merriott and their families.
The family would like to thank friends and family who welcomed Anne to Houston, becoming her extended family after she lost Joe. We would also like to thank the late Reverend Bill Denham and the church family of St. Luke's United Methodist Church for their support and prayers. A very special thanks goes to Dr. James Muntz and Dr. Carmel Dyer for their care and concern. We are forever grateful to her caregivers—Hilda West, Ashlie Robinson, Yvonne Thomas, Antoinette Whatley, Gwen Gabriel, and Karla Eldridge—whose loving presence brought peace and comfort to us all during the last three years of Anne's life. We also want to thank Vitas Healthcare for their attention and care, which made life more comfortable for the entire family.
Visitation will be held 5:30-7 p.m. Monday, November 28, 2022, at Owens Memorial Chapel Funeral Home in Ruston, La. The family will gather after Thanksgiving for a graveside service in Ruston, La.
In lieu of flowers, please consider a contribution in memory of Anne to St. Luke's United Methodist Church, Houston, Texas 77027. To leave an online memorial message for the family, please visit www.owensmemorialfuneralhome.com.
Published November 18, 2022