Mary Ann Lanthier
Austin, TX, 1933 - 2022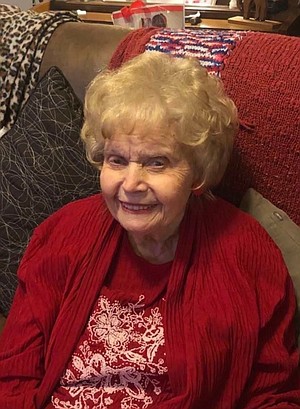 Mary Ann Ringgold Lanthier, 89, passed away on Nov. 12, 2022 in Austin, Texas.
Mary Ann was born in Cabot on Sept. 17, 1933 to the late Grover Cleveland Ringgold and Bessie Holt Ringgold. She was raised in Cabot and graduated from Cabot High School followed by Saint Vincent's Infirmary School of Nursing in Little Rock.
Mary Ann was a Registered Nurse for most all her life and kept her RN License current well into her 80's. She started out at Little Rock Public Health Department and most work after was in home health in Texas.
Mary Ann's passions were collecting antiques, playing bridge and watching old movies especially horror and murder mysteries. She loved to read murder mysteries and decorating magazines. Mary Ann was not formally trained in piano but could play by ear most old Baptist gospel hymns. Her joys later in life were dancing and listening and singing with her daughter, Missy and husband Gary. Many joyful hours at music concerts, most notably Linda Gail Lewis and many hours of live video together with the "VonKingery" family singers. Her favorite songs were "Waltz across Texas" and "Oh Arkansas".
Mary Ann was preceded in death by her parents; her husband, Joseph Lanthier; daughter, Sue Beth Kingery: sister, Helen Ruth Jones; and siblings of choice, Mary Ruth and Kennard Chandler.
She is survived by her daughter, Melissa Ann Kingery; son-in-law, Gary Faulkner; son, Kerry Ringgold Kingery; grandsons, Justin and Jacob Kingery; step daughters, Tally McAferty and Nannette Dunfield; and lifelong friend, Mamie Brooks, her son, Jeff Blackwell and his wife Paula.
Funeral services are scheduled for Saturday, Nov. 26, 2022 at Moore's Cabot Funeral Home (501)843-5816. Visitation will be at 12 p.m. with service at 2 p.m., followed by burial at Mount Carmel Cemetery in Cabot. In lieu of flowers, you can give a donation for funeral expenses to Venmo acct (@Melissa-Kingery-5). Please sign the online guestbook at www.moorescabotfuneralhome.com.
Published November 20, 2022
OBITUARY SUBMITTED BY:
Moore's Cabot Funeral Home
700 North 2nd Street, P.O. Box 1305, Cabot, AR
Phone: 501-843-5816
http://www.moorescabotfuneralhome.com