Arthur Joseph Johnson, Jr.
of Little Rock, AR, 1941 - 2022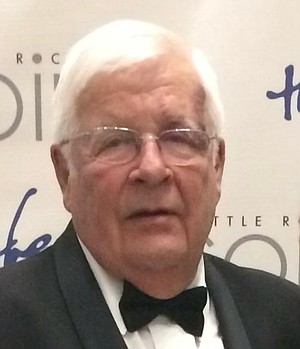 ARTHUR JOSEPH "JOE" JOHNSON, JR. (Papa Joe to the grandchildren), age 81, of Little Rock, Ark., died October 24, 2022. He was born on February 20, 1941, in El Dorado, Ark., to Arthur Joseph (AJ) Johnson and Willie Nadine Carpenter. In the 1960's he graduated from Tulane University with a B.S. in Architecture and Columbia University with his Masters in Architecture.
Joe was a consummate problem solver. Most any day you would find him with a pad of graph paper drawing out solutions to the many passions of his life including solutions to his home(s), client architecture projects, wooden boats and historic cars. You name it he designed it, solved it and built it. He was an integral part of the team as an architect with Cromwell Architects & Engineers for decades. One of his original personal projects was his first home back in 1969, to which he performed a remodel that was featured in Southern Living magazine in 1974. Post Cromwell and not ready to retire he started his own firm, Argenta Architecture with his partner Gary Stone. In the 1990's he started an architectural sign company with the help of his wife and children, DFI Architectural Signs Inc.
Joe is survived by his wife of 32 years, Jane (Papa Jane to the grandchildren); his former wife, Bonnie (Mike Smets), the mother of his children; his son, Arthur Joseph (Joey) Johnson III, wife Angela, sons Brooks and Max; his daughter, Karen Marie Fordyce, husband, William, daughters, Carly and Emily; his brother, Richard Leo Johnson, wife, Jane; his sister, Carol Ann Thompson; and his dog, Edith. He was preceded in death by his parents and his dogs, Porsche and Nadine.
Joe loved the outdoors. He was an exceptional canoe and kayaker resulting in many camping trips with family and friends all over the country. Later in life he and his wife traveled the world together. He went on global sailing adventures with friends, became a pilot and owned his own plane to help with the architecture business and time with family. One thing that comes from being a problem solver is you develop the ability to have a very believable answer for everything and in Joe's family this became known as "the Papa Joe book of facts" to which the last chapter has now been written.
Online guestbook: www.smithfamilycares.com.
Published November 25, 2022
OBITUARY SUBMITTED BY:
Smith Little Rock Funeral Home
8801 Knoedl Ct., Little Rock, AR
E-mail: littlerock@smithfamilycares.com
Phone: 501-224-2200