Jeanette Ann (Jan) Barta
Fayetteville, AR, 1932 - 2022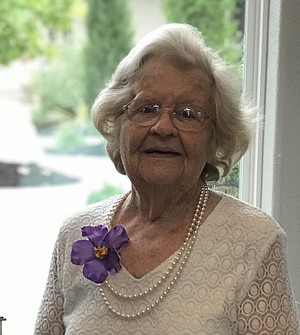 Jeanette Ann Barta (Jan), age 90, of Fayetteville, Ark., died Monday, October 3, 2022. She was born February 19, 1932, in Hillsboro, Wis. She was the daughter of the late Pasilous Uselman and Grace Brieske Uselman. Also preceding her in death was her husband, William Alton Barta; and infant children Mark, John, Jean, and Amy Barta; a sister, Marion Campfield; her brothers, Austin Uselman, Pasilous "Rusty" Uselman, and Carlton Uselman.
Jeanette attended Aquinas Catholic High School and Viterbo College in LaCrosse, Wis., where she received her nursing degree. She married Bill (Al) Barta in 1955 in Tomah, Wis. She was a nurse for many years at Tomah Memorial Hospital and later at Tomah Veteran's Medical Center. Jan and Bill moved to Rogers, Ark., in 1978, when she transferred to the Veterans Medical Center in Fayetteville. She retired from nursing in 1997. Jeanette and Bill were married 62 years when he died in 2017. Jan was a resident of Grand Brook Memory Care of Rogers at the time of her death.
Jan was an avid gardener and landscaper and had an amazing green thumb. She liked to cook and read. Her favorite subjects were the Civil War and JFK.
Survivors are her children, Mike Barta (Linda), Renee Parkhurst (David), Denise Sagan (Paul), Patrick Barta (Lyn), Tamora Barta, Kimberly Hesse (Steven); a brother, John Uselman; a sister Patricia Uselman; 11 grandchildren; three great-grandchildren.
Funeral services will be held Friday, October 14, at 11 a.m., at Nelson Berna Funeral Home in Fayetteville. Visitation is one hour prior, from 10-11 a.m., at Nelson Berna. Graveside service follows at noon at Fayetteville National Cemetery. Memorials are preferred to Alzheimers Association. www.alz.org. To place an online tribute, please visit www.bernafuneralhomes.com.
Published October 8, 2022
OBITUARY SUBMITTED BY:
Nelson-Berna Funeral Home and Crematory
4520 North Crossover Road, P.O. Box 8982, Fayetteville, AR
Phone: 479-521-5000
http://www.nelsonberna.com