James Barron Martin
Benton, AR, 1935 - 2022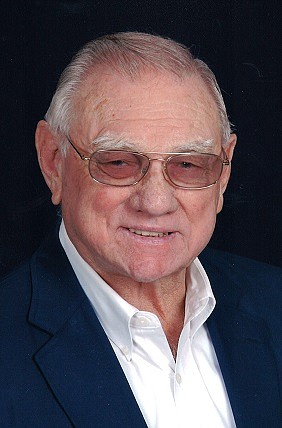 James Barron "Jim" Martin, age 86, of Benton, Ark., went to be with his heavenly father on October 20, 2022. Jim was born October 29, 1935, to James Lee and Lucy Barron Martin in East Carroll Parish, La.
He was preceded in death by his wife of 49 years, Barbara Ann Rose Martin; his parents; a brother, Lawrence Pilgrim; and two sisters, Flora Roebuck and Helen Whitehead; and brother-in-law, Nick Hamilton.
Jim was a member of Calvary Baptist Church, where he faithfully worshipped and actively served the Lord for over 45 years. His heart for service found him filling many roles – the office of a deacon, outreach director (Ministry Coordinator) teacher, treasurer, and trustee, brotherhood director, and a member/chairman of a number of special committees. He received his secondary education in Louisiana public schools, attended Louisiana Tech and completed an undergraduate degree in Geology at Northeast Louisiana University, his career path took him to the oil fields of south Louisiana, the Gulf, and west Texas. There was a stint as a math teacher in Louisiana public schools which led to his employment with Northeast Louisiana Contractor Chapter of the Associated General Contractors.
Due to his Association experience in Louisiana, he accepted the position of Assistant Manager with the Arkansas branch of the Associated General Contractors of America. After 22 years, he left the Association to become the first director of the established state agency to license Real Estate Appraisers. As its director he had the distinction of developing, implementing, and managing for the next 20 years, the Arkansas Appraiser Licensing and Certification Board. It was during this tenure that he and several board members became actively involved in the formation of the National Association of Regulatory Officials of which he subsequently was elected president. In recognition of his many years of service to the Association he was awarded the Lifetime Achievement Award on his retirement.
On moving to Saline County in 1974, Jim was elected to the Harmony Grove School Board on which he served for 10 years. In the mid 1980s, Governor Clinton appointed him to the Saline County Quorum Court, completing the term of a deceased member. His most recent community service calling was a Commissioner to the Benton Public Utility Commission, where he has served for 17 years.
Jim leaves to cherish his memory, his sister, Charlotte Hamilton of Oak Grove, La.; daughters, Cindy Stracener (Doug) of Benton, Sheri Kelley (Jeff) of Alma, Ark.; one son, James Martin, Jr, (Karen) of Freeport , Fla.; five grandchildren, Katy Kennedy (Tommy) of El Dorado, Ark., Conor Martin (Michelle) of Lebanon, Tenn., Bret Stracener of Benton, Ark., Blake Kelley of Cove City, N. C., Loryn Kelley of Alma, Ark.; three great-grandchildren, Adeline Rose Kennedy, Elise Marie Kennedy, and Sophie Mae Martin; and a host of nieces and nephews.
There will be a visitation held from 6-8 p.m., Monday, October 24 at Roller-Alcoa Funeral Home, 6700 Alcoa Rd., Benton. A celebration service of Jim's life will be at Calvary Baptist Church at 11 a.m. Tuesday, October 25, 2022, with Reverends Clif Springer and Eric Schick officiating.
The church is located at 612 Valley View Rd., Benton. A graveside service will follow at Pinecrest Memorial Park, Alexander, Ark. Pallbearers will be his grandsons, sons-in-law, and longtime friend, co-laborer in Christ, Elbert Ragsdale and Ron Dunning.
In lieu of flowers, donations may be made to Arkansas Baptist Children's Homes and Family Ministries, 10 Remington Dr., Little Rock, Ark. 72204, or the Arkansas Sheriff Youth Ranch, 100 St. Vincent Pl., Batesville, Ark. 72501.
Published October 22, 2022
OBITUARY SUBMITTED BY:
Roller-Alcoa Funeral Home
PO Box 2189, Benton, AR
E-mail: rollercoa@swbell.net
Phone: 501-315-0700